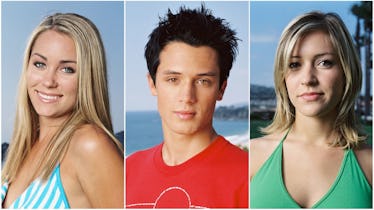 Stephen Colletti Says He's "Down" For 'Very Cavallari' Season 2, So Uh, LC, WYD?
MTV
Whether you were team LC or Kristin Cavallari back in the day, get ready to feel like you're right back in Laguna Beach with the crew in 2018. ICYMI, Kristin Cavallari is on reality TV once again with her new show Very Cavallari. Now, a familiar face from her Laguna Beach days could be making a cameo, and I'm already shouting "STE-PHENNNNN!!!" to my laptop. That's right, Stephen Colletti says he's "down" to be on Very Cavallari Season 2, and fans are understandably very shook. It's the So-Cal walk down memory lane I definitely wanted, but didn't know I needed.
Before Kristin Cavallari was happily married to former NFL star Jay Cutler, she had an angsty teenage romance with OG heartthrob Stephen Colletti on MTV. Said tumultuous relationship was made all the more complicated by a love triangle with frenemy Lauren Conrad, which played out in front of the cameras. To say their high school years were full of drama is an understatement, as any Laguna and Hills fan can attest to.
Nowadays, Cavallari seems like she's got things more figured out. She's moved to Nashville with Cutler, written a book, and is now airing out her life on reality TV once again. And while you can kiss any references to her LC feud goodbye — "People grow up and people move on, and they need to do the same," she recently told Elite Daily — another character from Laguna Beach could be making an appearance.
In an interview with Us Weekly, teen heartthrob Colletti revealed that he's discussed potentially making a cameo on Cavallari's new show. However, don't expect any love triangles, because Colletti is apparently a big fan of his ex-girlfriend's husband.
"I was actually just texting with her the other day about something. And she was giving me a hard time. She was like, 'You've got to come on the show,'" Colletti said to the publication. "A sports show that I listen to was talking about Jay Cutler, the way he is on the show. And I told her, I was like, 'All right. Maybe, maybe in Season 2.'"
He continued, "If there's a twelver and a deer stand and Jay and I are sitting there hunting, maybe I'll come on the show."
Um, so much yes. Kristin, make it happen!
Honestly, I love that the days of drama and heartbreak are behind these former exes. Cavallari loves a good nostalgia-inducing throwback as much as the rest of us, and I've been so here for their playful Instagram banter. Just a few weeks ago, Cavallari made a Stephen and Kristin joke that shows that there's no hard feelings, and fans were floored when he commented, "Go for Stephen" on one of her videos. If anything, it looks like they're pretty good friends now.
During his interview with Us Weekly, Colletti told the publication that he loves both Conrad and Cavallari "dearly" and that the trio has definitely moved on from the turmoil of their high school years.
"We're friends. I speak to them from time to time," he said. "I'll go down. Conrad will throw a killer 4th of July party in Laguna, and so I'm usually down there for that. And then, yeah, I'll speak with Cavallari from time to time. We always just check in and say hello."
Hopefully "just checking in and saying hello" translates into a Just Cavallari reunion in the near future. Sorry LC, but my early 2000s self needs this to happen.