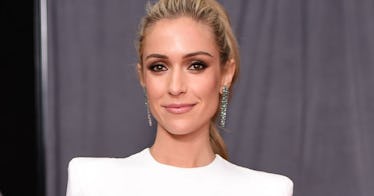 Kristin Cavallari Just Slammed Rumors That She's Still Feuding With Lauren Conrad So Hard
Dimitrios Kambouris/Getty Images
Fifteen years ago, when Laguna Beach hit television screens everywhere, it was one of the first reality shows of its kind, and teenagers (including my 12-year-old self) were cluelessly enthralled. All the drama that went down between Kristin Cavallari, Lauren Conrad, and Stephen Colletti was as real to me as was my middle school crush ignoring my existence. I had no concept of producers pulling strings behind the scenes to up the drama. And even though I've grown up a lot over the past 15 years, I have to admit, it's sometimes hard to shake the idea Laguna Beach planted in my head that Kristin Cavallari and Lauren Conrad are mortal enemies. But if you were expecting a bitter rehashing of all the love-triangle drama that went down between Cavallari and Conrad on the 2003 show on her new solo endeavor, Very Cavallari, you'll be sorely disappointed. "People grow up and people move on, and they need to do the same," she tells me bluntly in an interview with Elite Daily. And, let me tell you, Kristin Cavallari's message to people who pit her against Lauren Conrad doesn't stop there.
But before we get into that, what you should know right out of the gate is that Cavallari's new show is going to be completely different from Laguna Beach — and not just when it comes to love triangles and drama.
"It's night and day," Cavallari tells me about the differences between her new TV venture, on which she's an executive producer, and the show that put her on the map. "WithVery Cavallari, I just have so much more control and say in what goes on."
I had a moment right before I started shooting of, 'I don't know if I made the right decision.'
Actually, having a seat in the room where it happens was one of the biggest reasons Cavallari felt comfortable taking a foray into reality television and putting her personal life on display for the world again. "I'm an executive producer this time around, so just having that security blanket was a really great feeling," Cavallari says about the power she now holds to control the narrative on Very Cavallari in a way she didn't on Laguna Beach.
So don't expect any salacious marriage drama from this show. While Cavallari's relationship with her husband, Jay Cutler, is definitely a focus, Very Cavallari's drama surrounds the ups and downs involved with the launch of her new store, Uncommon James, and how her staff butts heads constantly in the process.
Getting a behind-the-scenes look at producers discussing how they're going to capitalize on real-life drama on the show was definitely an eye-opening experience for Cavallari. "It's interesting just to hear how producers were talking about me at one point," she says.
That's why she'd be lying if she said she wasn't a tad bit apprehensive about signing up to air her personal life on television all over again. "I had a moment right before I started shooting of, 'I don't know if I made the right decision,'" Cavallari admits. "Because when the production team got to Nashville right before we started shooting, I would meet up with them and they would ask me all these personal questions, just to kind of start figuring out storylines. And I had a little moment of, 'Oh no, I've been so private for so many years. Here we go.'"
You don't have to dig too deep into your reality-TV memory to remember the emotional rollercoaster that played out on Laguna Beach between Cavallari, her high school boyfriend Stephen Colletti, and her classmate who had a crush on him, Lauren Conrad. If what was playing out on screen was to be believed, Colletti was torn between two girls. I mean, look at this cheek kiss, y'all!
But, according to Cavallari, Colletti was never interested in Conrad in that way and most of the drama was orchestrated by the producers of the show. Elite Daily reached out to MTV for comment on Cavallari's claims, but did not hear back by the time of publication.
For that reason, Cavallari had some ground rules going into filming to ensure her real relationships wouldn't be manipulated for ratings. First and foremost, her kids aren't allowed on the show because she wants them to make the decision to appear on television for themselves. Beyond that, there are some other things that are definitely off limits.
"Jay and I, we talked beforehand about what we were both comfortable putting out there," she says. "Even places in the house that we didn't want to show. Like the master bedroom, for example. So, we let everybody in, but we still keep some stuff for us. And because it's not a show just based on my family, and obviously my kids are not on it, I felt more confident doing a show. We had the staff and some other elements to make it a good show, rather than just, like, my marriage drama."
So, does the new Very Cavallari executive producer feel bad for putting her Uncommon James staff members' drama front and center? Not. At. All. "I think the staff gets it," she says about Shannon Ford and Brittainy Taylor, Uncommon James' head of social media and head of operations, respectively. Their conflicting working styles are the driving force of the show's dramatic storyline.
"They know what they're doing," Cavallari continues. "Especially now. It's like, doing a reality show, you know what you're getting yourself into. Laguna Beach was different because we had no idea what it was going to turn into. We were so young, too."
It's really silly, honestly. It wasn't even just that I didn't like her.
But it's not lost on Cavallari that she's a reality TV veteran, so she definitely made herself available to give all the newbies advice. "I did make sure that my staff knew they could always come to me, and I was constantly checking in with them, making sure they were comfortable with everything," she says.
Too bad Cavallari didn't know this back when she was filming Laguna Beach. Maybe if she had known how much drama the powers that be behind the cameras were orchestrating, the Kristin v. LC drama of 2003 would not have been such a huge part of her TV legacy. "With Laguna Beach, we had no idea what we were filming. I was 17 and I was just doing what I was told to do. I didn't even realize I could say no to things. I learned a lot in between Laguna Beach and The Hills about what not to do."
Because, for the record, Cavallari has totally and completely moved on, and she has a really mature message for anyone who still thinks she's got a grudge against Lauren Conrad. "It's really silly, honestly. It wasn't even just that I didn't like her. I mean, we had producers putting us in situations that we never normally would have been in. And that just enhances any little emotion that you ever have. Had the show not happened, it never would've been what it was. And I still don't even think it was what it was. I just think it was amplified for TV."
But does that mean Cavallari wishes the show never happened? Not at all.
"I had a ton of fun on Laguna Beach, I don't regret anything," Cavallari says. "I wouldn't change anything. ButVery Cavallari is way more fun for me and beneficial, just to be completely honest. So I'm really trying to enjoy the ride."
We're trying to enjoy the ride, too, Kristin! Luckily, you can tune in toVery Cavallari when it airs on Sundays at 10 p.m. ET on E! to do just that.