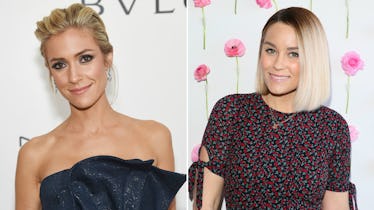 The Timeline Of Kristin Cavallari & Lauren Conrad's Feud Will Make You Feel So, So Old
Jamie McCarthy/Jean Baptiste Lacroix/Getty Images Entertainment/Getty Images
Celebrity relationships and friendships are a rare breed. These famous faces have their lives played out in front of the masses, whether it's the good, the bad, or the straight-up shady. In Elite Daily's new series, It's Complicated, we're highlighting the biggest celebrity "feuds" that took over Hollywood and dominated our Sunday brunches for weeks on end. We'll take a deep dive into the lives and social media feeds of our favorite stars and dissect what happened in front of the camera, what went down behind the scenes, and everything you might have missed in between.
Laguna Beach lovers, are you still out there? I'm sure you are, and let me tell you, you're not alone. Ever since September 28, 2004, the fateful day when Laguna Beach first aired, the world we knew was forever changed by two women and the rivalry slowly boiling between them. Of course, I'm talking about Kristin Cavallari and Lauren Conrad, because ever since Season 1 Episode 1, fans knew that these two ladies were not going to be BFFs... ever. Honestly, this timeline of Kristin Cavallari and Lauren Conrad's feud will bring you back to the good ol' days of, "What happens in Cabo, stays in Cabo."
Of course, now that both Cavallari and Conrad are a bit older, wiser, and in places in their lives where they're no longer fighting over the same man, the turmoil between them has clearly simmered down. But let me take you back in time to when their distaste for each other was at an all-time high, AKA the very beginning of Laguna Beach.
September 2004
In the show's very first episode, a pilot entitled "A Black and White Affair," we're introduced to LC (Lauren Conrad, obvi) and her friends preparing for a fun shindig. The rule was that everyone had to wear black or white, and we heard some ~girl talk~ between LC and friends stating that white dresses were trashy (as they're all dressed in black). Who other than Kristin showed up in — yep — a white party dress, much to the dismay of LC. She also brought along with her a very, very, bored attitude, which angered LC. What's a girl to do other than to approach Kristin and threaten to kick her out of the party if she complained any more than she already did?
And so it began — the rivalry that we didn't even know we needed in our young, teenage lives. While I couldn't find *the* moment that the world first caught a glimpse of their feud, I did find this vid that shows the inception of the "Black and White Affair" party, which is almost as good:
2004 — 2006
Throughout the entirety of Laguna Beach, it was a pretty well-known thing that Kristin Cavallari and Lauren Conrad also fought over something else constantly: Stephen Colletti, Cavallari's on-and-off-again boyfriend and Conrad's flirty BFF. Of course, this was a point of contention between the two girls (when will we stop fighting over boys? Not worth it, ladies!), and ultimately, their love triangle was simply a catalyst for even more tension between the two women.
But Cavallari later revealed in her book, Balancing In Heels: My Journey to Health, Happiness, and Making It All Work, that MTV manipulated the plot and reportedly made Colletti spend time with Conrad while he was dating her. She wrote:
I had a great boyfriend, Stephen, with whom I had a typical teenage romance ... Normal high school relationships are dramatic enough, but ours now had the added pressure of being seen by MTV viewers across the country as well as being manipulated by the show's producers, a set of adults who were suddenly very involved in the intricacies of our lives.
She continued, writing,
One of the most hurtful things they did was pressure Stephen to spend time with another girl from the show, Lauren, while he and I were dating ... It certainly provided some juicy conflicts, but it also affected me deep. I felt threatened. On one side, it seemed like the producers were trying to break us up… on the other side, I worried that my relationship with Stephen was becoming less stable, even though I knew if we hadn't been on television, he wouldn't have been spending time with another girl.
Eesh. One thing that is certain: Having Conrad and Cavallari constantly at each other's throats definitely did provide for some ~juicy~ TV drama.
December 2012
At this point in time, Laguna Beach was a thing of the past (as was The Hills, the beloved spinoff show in which both Cavallari and Conrad were involved in), but their complicated relationship was still ongoing.
When Cavallari sat down with Bravo's Andy Cohen for an episode of Watch What Happens Live, she talked about how the show was totally staged, but her "distaste" for LC was very, very real. "Fake relationships, fake fights," Cavallari told Cohen, adding, "The thing is, as you saw on the end — what's real and what's fake, you don't know."
When asked to say three nice things about Conrad, she said, "She is a very pretty girl... she's very successful, and we actually have had a lot of really fun nights together, so she can be a lot of fun."
GASP. Did she just say that they had fun together?
But before you get your hopes up, Cavallari admitted her "distaste" for Conrad was real, "But we were 17 and 18, and they made it a lot worse than it was."
March 2016
A decade after Laguna Beach's last season aired, Kristin Cavallari revealed secrets about her rivalry with Lauren Conrad in an interview with BuzzFeed. When asked how much of what the audience saw between the rivals was pure truth, Cavallari said, "I think because of the show, the rivalry between Lauren and I sort of escalated. We were never friends. We just weren't. I didn't hate her before MTV came and the way it sort of turned into. And that's because I felt like she was trying to steal my boyfriend."
To be fair, I feel as though *a lot* of teenagers might feel this same sentiment if they were put in Cavallari's shoes.
Insert lines from Brandy and Monica's "The Boy Is Mine" here.
When asked if their love triangle with Stephen Colletti was staged, Cavallari said, "So the love triangle was a real thing. However, it was real before MTV came. I think they sort of kept it going by having my boyfriend at the time going and hanging out with Lauren, which was hard."
But in a Twitter chat that same month, Cavallari revealed that it seemed like their feud was, at this point in time, squashed. When asked what she would do if she ran into Lauren Conrad, Cavallari replied:
I haven't seen or spoken to her in a while, but if I saw her I would give her a big hug.
So maybe time truly does heal all wounds?
January 2017
Where does this leave Kristin Cavallari and Lauren Conrad's relationship? Both are now successful businesswomen and happily married with kids, so it seems as though the drama is best left in the past.
In an interview with E! News in January 2017, Cavallari told the outlet that her relationship with Conrad is nonexistent — but not in a vicious way. "I haven't talked to Lauren in a long time," Cavallari said. When asked about her thoughts on Conrad's pregnancy, she said, "It's been years since I've seen her. But I think it's awesome. I feel like everyone is in the next phase of their life. Everyone's married and having babies now. It's really cool to see! It's a very exciting time in her life, and so I'm just happy for everybody!"
If you ask me, I'm *pretty* sure that at this point, the feud between these two is just like Cavallari's busted, broken-down car: totally dunzo.