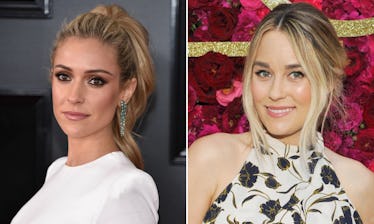 Kristin Cavallari & Lauren Conrad Have 2 Love Triangles In Common & It's Awkward AF
John Shearer/Getty Images; John Sciulli/Getty Images
Celebrity relationships and friendships are a rare breed. These famous faces have their lives played out in front of the masses, whether it's the good, the bad, or the straight-up shady. In Elite Daily's new series, It's Complicated, we're highlighting the biggest celebrity "feuds" that took over Hollywood and dominated our Sunday brunches for weeks on end. We'll take a deep dive into the lives and social media feeds of our favorite stars and dissect what happened in front of the camera, what went down behind the scenes, and everything you might have missed in between.
Kristin Cavallari and Lauren Conrad have been on people's radars for over a decade now. But that hasn't eased the world's fascination with them one bit. The former Laguna Beach stars feuded for years, and always ran in the same circles. That, by nature, means that there are so many people that Kristin Cavallari and Lauren Conrad have (or used to have) in common.
Here are just a few of the ways Cavallari and Conrad are tied to each other (presumably forever):
Stephen Colletti
Back in their Laguna Beach days, Cavallari and Conrad famously vied for Stephen Colletti's affection. He was Cavallari's very first love and the two actually did date for a time.
But, as it goes with reality TV, the producers of the show just had to poke their noses in Cavallari and Colletti's business. Enter Lauren Conrad: blonde, beautiful, and put in place to make Cavallari's blood boil.
And boil it did. In Cavallari's autobiography Balancing in Heels, the former reality star explained just what the deal was with this twisted love triangle:
Normal high school relationships are dramatic enough, but ours now had the added pressure of being seen by MTV viewers across the country as well as being manipulated by the show's producers, a set of adults were very suddenly involved in the intricacies of our lives. Surprisingly, the producers had a bigger effect, as they controlled and mapped our lives more than we were aware.
Yikes.
According to Cavallari, all that interference had lasting consequences:
One of the most hurtful things they did was pressure Stephen to spend time with another girl from the show, Lauren, while he and I were dating. It certainly provided some juicy conflicts, but it also affected me deeply. I felt threatened.
So, it all began here. To have to live that out on national television must have been really tough.
Even Cavallari says she wasn't at her best when this was going on:
On one side, it seemed like the producers were trying to break us up, which was intimidating. On the other side, I was worried that my relationship with Stephen was becoming less stable, even though I knew if we hadn't been on television, he wouldn't have been spending time with another girl.
Although Conrad seemed to be making the moves on Colletti, Cavallari asserts in her book that what she had with her then-boyfriend was the real deal:
What Stephen and I had together was real, and that's what made me get through the producers' attempt at manipulating us. We talked about everything the entire time. When we saw each episode, it was clear to us what was real and what was fake … but that still didn't make it easy.
What a wild ride!
Audrina Patridge
Cavallari, Conrad, and Audrina Patridge all famously starred on The Hills (after Laguna Beach), and that little reality TV venture led to even more drama.
While The Hills kept the Cavallari-Conrad feud going strong, a few others were also brewing. Cavallari and Patridge both dated Justin Bobby Brescia, which apparently made for great reality TV drama. Another love triangle. Surprise, surprise!
On top of that, Patridge and Conrad were attached at the hip while they were filming the show, which only led to more awkwardness among the three cast members.
But all that's behind them now, it seems. Conrad and Patridge haven't spoken in years because, as Patridge puts it, "We weren't all friends before The Hills, and we were kind of friends for the show."
Now, years and lifetimes later, Patridge and Cavallari are the ones who are actually friendly. They're in constant contact, according to Cavallari.
"I talk to Audrina all the time," Cavallari told E! News in January 2017. "I'm so proud of her. She's loves having a little girl. She's just in baby bliss."
Sweet! As for the feud between Cavallari and Conrad, that's over. But the two aren't (and maybe never will be) friends. Cavallari told E! in that same 2017 interview,
I haven't talked to Lauren in a long time. It's been years since I've seen her. But I think it's awesome. I feel like everyone is in the next phase of their life. Everyone's married and having babies now. It's really cool to see! It's a very exciting time in her life, and so I'm just happy for everybody!
Feud or not, one thing's for sure: these gals have grown up!