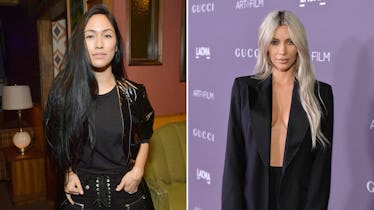 Steph Shep's Latest Instagram Reveals A Lot About Her Feelings Toward Kim Kardashian
Emma McIntyre & Neilson Barnard/Getty Images Entertainment/Getty Images
It was a weird day when the public found out Stephanie Shepherd was no longer working as Kim Kardashian's right-hand woman. It felt like someone should have ran it by me first. Steph Shep worked as Kim K's assistant for about five years before the two parted ways, and fans definitely grew to know and love Shepherd as one of the main members of the Kardashians' tight-knit entourage. Fans have been worried about bad blood between the two brunette beauties, but now it seems Steph Shep and Kim Kardashian's drama might be over thanks to Shepherd's latest Instagram story.
When Kim initially called things off with Shepherd, rumors began circulating. Some people thought Kim didn't like how famous Shepherd was becoming on her own, and wanted her to remain more behind-the-scenes in her assistant role. In an episode of Keeping Up With The Kardashians, Shepherd also admitted to Kim's older sister, Kourtney, that she was looking to expand her position. At the time, Kim and Shepherd seemed to land on some sort of agreement, and Shepherd moved into a COO position at Kardashian West Brands. However, after a short amount of time, Kim officially pulled the plug on that position, too.
In November 2017, a source revealed to People magazine the two weren't really speaking after that. The insider said,
Kim made a decision to let Stephanie go. She was a good assistant but when Stephanie wanted to transition into a larger role with Kim's brand and businesses, it just didn't work. Kim gave her the chance but after a short period of time it became clear that Stephanie just didn't have the knowledge to take on a role like that. Kim made an executive decision to part ways.
The source added, "She's still friendly with the other sisters but she and Kim aren't really speaking."
I know. It's upsetting.
However, just by taking a peek at Stephanie Shepherd's latest Instagram story, it looks like not only are the girls speaking, but Shepherd is comfortable enough to shout out her old boss in front of one million followers.
On March 27, Shepherd shared a variety of photos and videos from a spontaneous trip to London. In-between pictures of rolling British fields and royal wedding paraphernalia, Shep stopped to snap a photo of a life-size cardboard cutout of her former boss. Kim and her sisters just recently became the new faces of Calvin Klein underwear, and it looks like Shep found a British display of the brand. She shared the photo with the caption, "Hey Keeks."
Based on the casual nature of this post, it seems like there simply can't be any drama between these two, right? No real drama, anyway.
Plus, not that long ago, Shepherd posted another telling picture on her Instagram revealing even more insight into her current status with Keeks. For Valentine's Day, Kim sent out perfume press boxes for her new "Ride Or Die," "Bae," and "BFF" scents. Kim famously shared a video of the lucky few getting a special box, including some of her "haters" such as Taylor Swift, Bette Midler, and Chelsea Handler.
However, Shepherd was one of the lucky ones who received a "Ride Or Die" press box.
She shared a picture of her package on Instagram and tagged Kim.
Look, if casual social media banter doesn't prove these two are just fine, then I don't know what does.
Plus, Kim was filmed explaining how she ended things with Shepherd. In an episode of KUWTK, Kim explained to her friend Allison Statter on the phone, "I said [to Shepherd], 'I love you a lot, like a sister, and this conversation is really hard for me to have. But I just think that you've outgrown your position here.'"
Look, all's well that ends with great Instagram pictures. That's what I always say.
Knowing the way these two handled themselves together professionally and as friends through all of the ups and downs, I've got a feeling they're both gonna be jusssst fine.
Check out the entire Gen Why series and other videos on Facebook and the Bustle app across Apple TV, Roku, and Amazon Fire TV.