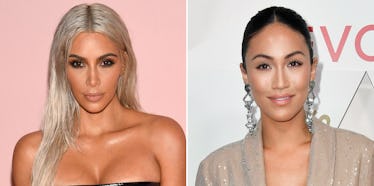 Steph Shep's Latest Instagram Reveals So Much About Her Relationship With Kim K
Dimitrios Kambouris/Frazer Harrison/Getty Images
Kim Kardashian and Steph Shep's friendship might not be so up in the air anymore. If you have no idea who I'm talking about when I say Steph Shep (it's OK, I literally didn't know who she was until, like, a week ago), her full name is Stephanie Shepherd and she used to be Kim Kardashian's assistant. She was once really close with all the Kardashian sisters, but Kim fired her in November 2017, so fans aren't sure if the two are still friends. But Steph Shep's Instagram about Kim Kardashian may prove Shepherd and her former boss don't have as much bad blood as people might've thought. Shepherd posted a photo of Kim Kardashian's Ride or Die press box for the now sold out Kimoji Hearts fragrances on Feb. 5. She tagged Kardashian and added a red heart emoji for her caption, which feels kind of awkward to me. I don't know why.
While this might be a positive sign that Shepherd and Kardashian's friendship is in a better place, I wouldn't think so fast. Kim Kardashian sent these valentines to people she hates, too. She literally sent a Kimoji Hearts press box to Taylor Swift, guys. So Shepherd getting one doesn't necessarily mean they're on good terms. She could've been one of the people Kardashian doesn't like but was sending a valentine to anyways because "everyone deserves a valentine." In a video on her Instagram story on Jan. 31, you see a list of names written out on sticky notes. Some of the names include Taylor Swift, Blac Chyna, and her sisters, but Shepherd's name isn't included. Kardashian said,
I am writing the list for my press boxes, and I'm going to send them to way more than this. But, I decided for this Valentine's Day, everyone deserves a valentine. So I'm going to send them to my lovers, my haters, to everyone that I think of. Because it's Valentine's Day after all.
Shepherd posted the photo of her Ride or Die press box on Feb. 5 to her Instagram.
She also posted a video of her hammering the chocolate heart open.
Like I said, this could either be a sign that Kardashian and Shepherd are on good terms, or it could mean Kardashian sees Shepherd as one of her "haters." You could argue the fact that she was sent a Ride or Die means the two are good, but Taylor Swift could've gotten a Ride or Die press box for all we know. So I'm going to go ahead and say there's literally no way to tell what the status of Kim Kardashian and Stephanie Shepherd's friendship is based on this Instagram. Kardashian sending gifts to people she's had beef with in the past, however, does kind of show that she doesn't care about the beef now. It's not like she'd forget about it, but she also has a new baby to care for and a successful business to run, so sending these boxes to everyone is kind of like saying, "We're not friends, but I don't care about the drama anymore." She could've been sending that message to Shepherd, or she could honestly be cool with her former assistant. Who knows?
Kardashian reportedly fired Shepherd because she started to become more focused on fame than her job as an assistant. She used to post a lottttt of pictures with Kourtney Kardashian calling her "wifey."
Kim once confronted Kourtney about their friendship on an episode of Keeping Up With The Kardashians, saying she feels it's unprofessional the way Shepherd acts with Kourtney.
Just in that video alone, it's easy to see how bothered Kardashian was by Shepherd's apparent obsession with her friendship with Kourtney and the whole "wifey" thing. Hey, if I had an assistant who started hanging out with my sister more than she did work for me, I'd fire her too. I'm just sayin'.