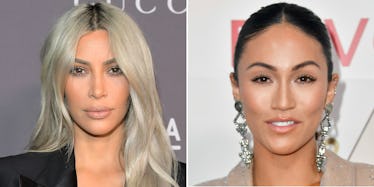 Kim K's New Instagram Says So Much About The State Of Her Friendship With Steph Shep – UPDATE
Charley Gallay/Frazer Harrison/Getty Images
Kim Kardashian released her limited edition Kimoji Hearts fragrances on Thursday, Feb. 1, and fans were flocking to KKWFragrance.com to try and snag their own bottles. Kardashian posted about the press boxes for the fragrances on her Instagram and Snapchat stories all week, and that's where we learned she sent boxes to her haters as well as her friends. Guys, she literally sent Taylor Swift a box of perfume. I die. But out of all the names she showed on her Insta, her former assistant wasn't one of them. Kim Kardashian didn't send Steph Shep a KKW perfume and it's very sus.
UPDATE: Steph Shepherd posted a photo to Instagram on Monday, Feb. 5 showing that Kim K actually did send her a KKW Beauty Kimoji Hearts perfume. The photo showed the chocolate heart press box reading "RIDE OR DIE" next to a bouquet of red roses. The caption read, "@kimkardashian" with a red emoji heart.
EARLIER: Kardashian posted a video on her Instagram story showing a grid of sticky notes with the names of the people she was planning on sending Kimoji Hearts fragrances to. In the video, she says "Everyone deserves a Valentine," but apparently "everyone" doesn't mean Stephanie Shepherd... awk. Kardashian said,
I am writing the list for my press boxes, and I'm going to send them to way more than this. But, I decided for this Valentine's Day, everyone deserves a Valentine. So I'm going to send them to my lovers, my haters, to everyone that I think of. Because it's Valentine's Day after all.
It's honestly so f*cking funny that she sent a fragrance to Taylor Swift. But I'm also very concerned about the fact that Bette Midler seems to be on the list??? Do Kim K and Bette Midler hate each other?! Should I be concerned for Bette?!
Other people on the list include makeup artist/YouTuber Desi Perkins, Kardashian's sisters and mom, Blac Chyna, Chrissy Teigen, Jennifer Lawrence, Paris Hilton, and Lindsay Lohan, LOL. In case you missed it, Lohan said Kardashian's recent topless photo shoot was confusing, and Kardashian fired back saying her random accent is confusing (where is the lie?). But like we said, Steph Shep is nowhere on any of these lists.
Kardashian fired Shepherd in 2017 because she reportedly felt Shepherd wasn't dedicated to her job anymore.
Their friendship has been up in the air ever since. Does this mean she didn't get a Kimoji Hearts press box at all? Not necessarily. Kardashian said in the video that she was sending boxes to more than just the people on those sticky notes. But considering the fact that Kardashian and her former assistant are reportedly not friends anymore, it's possible she didn't get one. But then again, she sent one to Taylor Swift... so maybe Shep did receive a box.
Back when Kardashian first released Shepherd as her assistant, a source told People she did so because she needed an assistant who was less emotionally attached to the Kardashian family (Shepherd became good friends with Kourtney Kardashian) and more committed to their job as her assistant. The source said,
Kim needed an assistant where the relationship is more professional. It's very difficult to work with friends, so Kim decided to hire someone else. The bottom line is that Steph was hired as an assistant, and Kim wanted to keep it like that. They are not friends now.
Another source told Us Weekly that everything started to change when Refinery29 released an interview with Shepherd. The source said,
Stephanie started thinking she was a celebrity herself, and Kim didn't like that. Everything started going downhill after the Refinery29 article came out ... Things aren't how like they used to be. Stephanie does still hang out with the family and Kim and her are cordial when they see each other, but it's different.
Yikes. Welp, even if Kardashian and Shepherd don't talk anymore, there's clearly still a possibility she got a Valentine from her former boss.