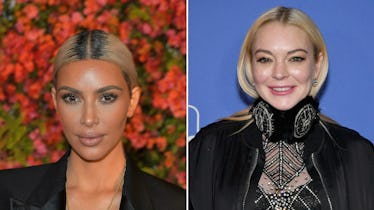 Kim Kardashian Just Clapped Back At Lindsay Lohan For This Comment & I'm Screaming
Charley Gallay/Getty Images Entertainment/Getty Images// Slaven Vlasic/Getty Images Entertainment/Getty Images
We all know that Kim K is not shy when it comes to showing off her style, her secret wardrobe tricks, or clapping back at anyone who gets in her way. After the reality superstar shared a picture of her new hairdo on Snapchat, it sparked a lot of comments. But there was one in particular from Lindsay Lohan that really drew her attention. Kim Kardashian clapped back at Lindsay Lohan on Instagram, and it's the ultimate burn.
On Monday, Jan. 29 Kim K debuted a new hairdo — cornrow braids tipped with white beads — on her Snapchat. Perez Hilton decided to post the photo of Kim K's braids to his Instagram with the caption, "Kim K's new look. Thoughts????" But, Hilton probably didn't expect Lohan to stop by and comment, "I am confused." Which she did.
Not the most outrageous of comments, but Kim K was not having any of it and decided to sling some of that shade back tenfold. She wrote, "@lindsaylohan you know what's confusing.....your sudden foreign accent."
Ouch. Don't mess with Kim K. She will come for you.
Hilton himself could not even believe what was going on.
He even decided on a second post with the little squabble front and center. He wrote in the caption,
@KimKardashian just responded to @LindsayLohan's comment on my photo of her new hair and I AM CRYING and squealing and gagging!!!!!!!! It feels like 2007 again!!
Burn.
Lohan's fake accent is a little bit of old news. Back in 2016, the internet went bananas over a clip of Lohan being interviewed at the opening of her new Greek club, Lohan Nightclub (where does she get this creativity from?). She spoke about the opening of the club and all the success she hopes for it to achieve, yadda yadda, honestly no one cared. Everyone was far too focused on the weird sounds coming out of her mouth.
It was definitely not the Lohan voice we've known since The Parent Trap. It had an undistinguishable undertone. She sounded like maybe she was at a party and trying to do an impression of a drunk Parisian who also happens to have lived in 17 other countries with other languages that have now permanently influenced her tone and inflections? I really don't know what was happening. But watching it made my entire body cringe.
"It's a mixture of most of the languages I can understand or am trying to learn," Lohan told The Daily Mail as an explanation for her new accent. Which has me worried for her because I don't think she understands how accents work.
I've been learning different languages since I was a child. I'm fluent in English and French can understand Russian and am learning Turkish, Italian and Arabic.
I definitely heard most of those in there. But the question still remains, why? How? What? Hey Lindsay, I am (still) confused. And apparently, so is Kim K.
Hilton wasn't the only one living for Kim K's clapback.
Kim K might have had the last laugh, for now, but people were not too thrilled with her either. This new 'do at the root of all the drama also caused quite a stir for other reasons.
Kim K referred to her new hairstyle as "Bo Derek braids," referencing Derek's hairstyle in the 1979 film, 10. She even posted a second photo featuring her new look with the caption, "Bo WEST."
Many blasted Kim K for her choice, stating that she could have called them Fulani braids or cornrows, but instead gave credit to a white actress for a traditionally black hairstyle.
Maybe Kim K should focus her attention on the responses to her new look instead of clapping back at Lohan, because it seems like lots of people were confused. Or better yet, since the two both seem to not understand some basic things, maybe they can take a class together or something?