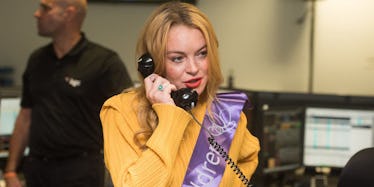 Lindsay Lohan Explains Why She Suddenly Has A Bizarre New Accent
REX/Shutterstock
Lately, Lindsay Lohan has been combining the stay-famous techniques of a variety of veteran celebrities and, frankly, they're creating a pretty weird brand.
The best outcome thus far has been Lindsay's Angelina Jolie-esque trip to Syrian refugee camps in Turkey where — don't worry — she kept shit LiLo when she announced plans to donate cases of German energy drinks to refugees.
The worst, JK, second best outcome thus far has been Lindsay's Madonna-esque adoption of a vague, European halfcent.
In an interview recorded outside the opening of her new Greek nightclub last month, Lindsay mentions she's American, but speaks with a faint (Greek? French? Turkish?) inflection.
The internet, bored of wondering when Madonna will stop pretending to be kinda British, began circulating Lindsay's interview footage Tuesday and, now, we're all about to lose a day to this nonsense.
@ThePerezHilton "we can make everything have a difference" is my new slogan. — stephanie ironson (@sironson) November 1, 2016
@ThePerezHilton audition for My Big Fat Greek Wedding 3? — Mary (@rogersfinest) November 2, 2016
It was unclear, initially, whether Lindsay developed the accent abroad, OR was hoping by speaking with an inflection she would be better understood by non-English speakers, OR if she was just, you know, shaking things up for the evening.
The 30-year-old admitted to DailyMail.com on Tuesday the accent is simply "a mixture of most of the languages I can understand or am trying to learn," obviously adding,
Je ne sais pas.
Lindsay told the site she's fluent in English and French, can comprehend Russian and is currently learning Turkish, Italian and Arabic. No big freaking deal.
The combination of these dialects apparently result in an accent some might call Renchkitarabic OR Turssiengrenchian OR Fritengarakishian, but Lindsay calls it ~Lilohan~.
Lindsay, girl. That accent is nonsense and we can't get enough of it. Stay fervently you for eternity, please.
Citations: Lindsay Lohan breaks her silence and reveals what is behind THAT new accent Read more: http://www.dailymail.co.uk/tvshowbiz/article-3896028/Lindsay-Lohan-breaks-silence-reveals-new-accent.html#ixzz4OrLlJc4R Follow us: @MailOnline on Twitter | DailyMail on Facebook (Daily Mail)