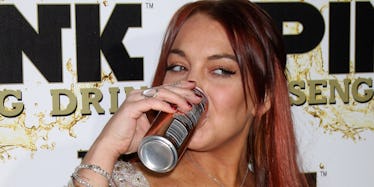 Lindsay Lohan Is Sending Energy Drinks To Refugee Camps, Because Why Not?
Shutterstock
This past week, Lindsay Lohan celebrated the opening of her new, Greece-based nightclub, named Lohan, with her partner and not-boyfriend, Dennis Papageorgiou, but the actress still found time to lend a hand(ful of energy drinks) to Syrian refugees.
No, I know. It's -- I know. Just.
LiLo took a trip to Syrian refugee camps in Turkey recently, and, according to Page Six, the 30-year-old's travels inspired her to supply refugees with Mintanine, a German energy drink available for purchase at Lohan.
A source told the site,
There's hardly food, water or anything, so at this point sending anything is helpful. This is all part of Lindsay's mission to help refugees.
Mintanine is advertised as a "blue caffeine lemonade" that tastes "woohoo :-)" and is made with "no taurine, no aspartam, no inosit."
Lindsay's urge to help undoubtedly comes from a place of kindness, even if she does end up donating cases upon cases of a "lifestyle beverage" that only serves to make displaced victims of the war in Syria doubly alert to the horrors befalling them.
See, our girl Linds is all about philanthropy. In July, she posted a sexy pic on Instagram along with a caption calling for fans to pray for those struggling in the wake of terrorist attacks in Nice and Turkey.
Fans didn't appreciate Linds' approach to comforting victims of terrorism.
The success of her new club, rumored to spawn locations in London and Hong Kong in the near future, will only make it easier for Lindsay to fund her charitable efforts.
Who knows how she'll go on to help others in the future. There has to be some war-torn nation in need of a bunch of tiny broken trampolines, or a tornado-ravaged elementary school in need of a bunch of boxes of Hydrox Cookies.
It's something, you guys.
Citations: Lindsay Lohan will supply refugees with energy drinks (Page Six)