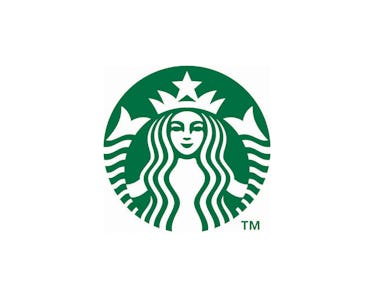 These Starbucks Mermaid Costume Ideas Will Energize Your Halloween
Starbucks fans, there are so many ways to express your love for the coffee chain on Halloween. You could turn yourself into a rainbow frappuccino or a Pumpkin Spice Latte, but don't forget about a super logical option: The siren logo! A siren is a twin-tailed "super" mermaid, so if it's a mystical Halloween look you seek, keep reading to swim your way through Starbucks mermaid costume ideas that will call to you like a real-life siren.
In a video explaining the origins of Starbucks' siren logo, Steve Murray, creative director of Starbucks Global Creative Studio, said the brand considers her an integral part of the coffee company. "She's not a real person, but we kind of think of her as one," he said. "She's the biggest symbol of our brand, really, other than our partners [employees]. She's the face of it."
Now, here's where I should point out something I never noticed until I set out to write this article. The Starbucks siren's two tails are featured within the logo. Though her overall look has modernized since the brand's inception in 1971, the siren has always held her two tails in the logo. AND I'M LITERALLY JUST NOW NOTICING.
Alas, all mind-blowing revelations about the coffee place I frequent aside, putting together a quick little DIY two-tailed mermaid (read: mythical Starbucks siren) costume is super easy. You'll just need a few things to complete it. Ahead, let's break down all the elements you'll need for a highly caffeinated Halloween.
For her twin tail:
Slip into this Sea Siren Mermaid Skirt ($30) from Party City to achieve the Starbucks siren's super tail IRL. The best part? Since it's a skirt, you'll be able to walk around with your fins on. In addition to the dual tails, mermaid scales are already part of the leggy design's fabric.
For her long, flowy hair:
A colorful wig — for example, this Women's Desire Aqua Wig Blue ($15) from BuySeasons at Target — is a simple way to achieve the Starbucks siren's long tresses without the hassle of hot tools and hair dye. Obviously, if your hair's already this long, you could pop in some hot rollers and douse it with temporary rainbow dye.
For her bold crown:
Any crown will do for this, but personally, I think a headband style like this Metallic Floral Crown Headband ($7, on sale for $4) from Charlotte Russe is the way to go. It will be more secure, meaning you won't have to spend any time wondering, "Is my crown still on my head?" I can't promise it will stay on should you decide to take your fins for a spin in real-life water, though.
For bonus siren elements:
The base Starbucks siren costume is very simple. Pair the tail skirt, the colorful wig, and the headband crown with a bandeau bra, and you're ready for your coffee cup closeup.
However, there are a few extra things you can add for even more siren vibes. For example, you could print out the actual Starbucks logo and place it somewhere on your DIY costume or carry your drink in a Starbucks cup throughout the night — you know, really sell it as something Starbucks-inspired. Of course, you could always throw on an accessory the siren herself would likely wear: The Sea Siren Mermaid Net Wrap ($13) from Party City, pictured above. So fun! Like why would you even consider being a regular mermaid when you could be a Starbucks siren?
And hey, if mer-people aren't your thing, there are plenty more equally brilliant Starbucks-themed costumes to DIY. (Hint: The Unicorn Frappuccino.)