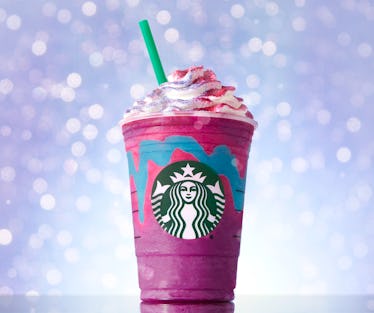 How To Make A Starbucks Unicorn Frappuccino Costume For A Sweet Halloween
The release of Starbucks' official Unicorn Frappuccino sent frapp lovers into a frenzy. The colorful mango crème frappuccino's magical hot pink hue and contrasting blue swirl gave the coffee giant a serious leg up when it as far as unicorn food is concerned — and we haven't even started talking about the decadent whipped cream and colorful sweet and sour powder topping. As such, a DIY Starbucks Unicorn Frappuccino Halloween Costume is an A+ idea, don't ya think?
For a little background on the Unicorn Frappuccino, let's go over how Starbucks chose to describe the magical beverage ahead of its lauded limited edition release back in April 2017. In a press release, the company beautifully articulated the drink's mythical qualities, all of which you'll want to re-create ahead of your holiday festivities. In case you missed it, they wrote,
Like its mythical namesake, the Unicorn Frappuccino blended crème comes with a bit of magic, starting as a purple beverage with swirls of blue and a first taste that is sweet and fruity. But give it a stir and its color changes to pink, and the flavor evolves to tangy and tart. The more swirl, the more the beverage's color and flavors transform.
In real life, you're probably aware, that stunning description translates to an equally eye-catching blended beverage that looks (almost) too pretty to drink.
Flavor-wise, Starbucks played up its mango base and colorful sweet and sour elements. They continued,
The Unicorn Frappuccino blended crème is made with a sweet dusting of pink powder, blended into a crème Frappuccino with mango syrup and layered with a pleasantly sour blue drizzle. It is finished with vanilla whipped cream and a sprinkle of sweet pink and sour blue powder topping.
Though it was only available for a mere four day window between Wednesday, April 19, and Sunday, April 23, we can honor the Unicorn Frappuccino's legacy via an epic Halloween costume.
The swirls of sour blue drizzle and the purple to pink ombré effect are standout elements to DIY, to be perfectly honest — and despite the fact morphing yourself into an Insta-worthy beverage might seem sort of difficult, it's easier than you think. You will look fabulous topped with extra "whipped cream" and pink and blue "sprinkles". Did I mention there's lots of glitter involved in this little do it yourself project? 'Cause there is.
How To Be A Unicorn Frappuccino IRL
Without further ado, keep reading for Elite Daily's guide to being a very extra Unicorn Frappuccino this Halloween. Full of bright colors and glitter, it's super cute and guaranteed to get you all the likes.
For the purple-pink base:
A pink or purple (or somewhere in between) dress will do the trick. This magenta Contemporary Cami Dress ($19.99 on sale for $12.99) is from Forever 21. Unless you're looking to add a staple purple-pink piece to your wardrobe, I'd opt for an affordable dress instead of spending triple the amount only to have it be covered in spilt Halloween party refreshments come Nov. 1.
For the sour blue drizzle:
Tie a bright blue or turquoise scarf around your waist to add that statement swirled effect. This Chiffon Silk Blend Oblong Scarf ($11.90) is a great Amazon Prime option, TBH. No matter the scarf you choose, just be sure to use safety pins to secure it and ensure it doesn't budge.
For the whipped cream:
Creating the fluffy, swirled texture of whipped cream is easy with the help of a white boa. This White Chandelle Feather Boa ($16.31) from DreamAngels is a great option. Simply twirl it around your neck to top off the look. For extra fun, top your "whipped cream" with heaps of pink and blue glitter (aka the sweet and sour sprinkles).
For the Starbucks logo:
I would suggest printing out the Starbucks logo and pinning it to your tummy for the full Starbucks treatment. However, you can incorporate it any way you see fit.
For the optional add-ons:
Because this is a unicorn-inspired look, you can rev it up slightly with additional pieces. For example, you could wear this unicorn wig ($24.49) — complete with rainbow unicorn hair — or even just a golden unicorn horn.
Like any Starbucks drink, there are so many ways to personalize your Unicorn Frappuccino costume! Just don't let any baristas take credit for all your hard work.