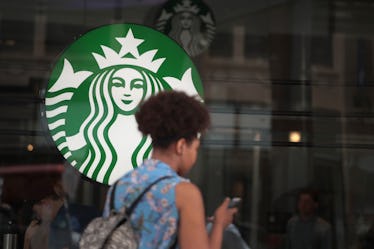 This New Starbucks Galaxy Frappuccino Was Practically Made For Instagram
Scott Olson/Getty Images News/Getty Images
While Marrakesh and Thailand are incredibly high up on my bucket list, I've always wanted to visit Chile. The Andes Mountains are supposed to be breathtaking, Santiago is a super historical city, and who wouldn't want to check out Easter Island? Seriously it's all-around an absolutely gorgeous country with a ton of unforgettable opportunities for some clutch sightseeing. Besides each of these spectacular spots, though, I've heard that Starbucks Chile's Galaxy Frappuccino is the Instagram opportunity of a lifetime. I mean, let's face it: this drink is practically a historical landmark on its own.
First, let me fill you in with a little bit of background information on this awe-inspiring beverage. While the Galaxy Frappuccino looks like a naturally beautiful specimen, this gorgeous creation is actually a man-made sip, per Cosmopolitan. The drink was created by Starbucks' product innovation team all the way in Brazil. According to Starbucks, it's a cotton candy-flavored crème-based drink which is sprinkled with grape "cosmic dust" candy, and topped with whipped cream, as well as edible pink and blue glitter. Even though it's beyond breath-taking on its own, mixing the ingredients causes the colors to intensify, actually reflecting the vibrancy of an "ultra-violet galaxy," per Starbucks. All I can say is that it's out of this world.
In case you're wondering how people are feeling about it, Twitter user @shisukei essentially says it's "recommended for the craving," in a translated tweet from Spanish to English. They also rated it an impressive 7/10. So, if that doesn't get you hyped, I don't know what will.
Even though the Galaxy Frappuccino is delicious beyond belief, there's a major downside: Unless you're based all the way out in Latin America, you probably won't get to try it anytime soon. According to Starbucks, Galaxy Frappuccinos are only available to a small selection of markets throughout Latin America, for a very limited time. So, if you're headed to Aruba, Brazil, Bolivia, Chile, Colombia, Costa Rica, El Salvador, Guatemala, Panama, Puerto Rico, Peru, or Trinidad & Tobago anytime between Aug. 22 and 26, make sure to squeeze in a quick Starbies run. Trust me — you definitely will not regret it.
I'll be the first to say that the Galaxy Frappuccino's geographical limits are extremely disappointing. Trust me: I have so much FOMO right now. On the bright side, the ever-popular PSL is making a comeback quite soon, even before September rolls around. On Aug. 21, the coffee giant announced that its most festive (and delicious) latte is returning to stores on Aug. 28, and I don't even know if my body is ready. Posts and pictures on the Leaf Rakers Society Facebook Page and on Reddit indicate that several stores have already received their PSL supplies. Finally, Starbucks has confirmed that the PSL is officially coming back on Tuesday, Aug. 28. The greatest season of the year is so close, I can almost taste it.
You'll absolutely love the Galaxy Frappuccino as long as you have a sweet tooth and a keen eye for beauty. If you haven't tried it already, make sure to mosey on over to one of the Starbucks location listed above, before Aug. 26 and while supplies lasts. It's straight-up ethereal.