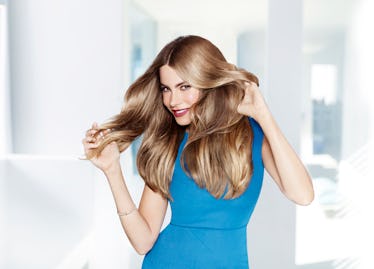 Sofia Vergara Spilled Her Beauty Secrets & You Won't Believe Her Dream Hair Makeover — EXCLUSIVE
Sofia Vergara is #goals in pretty much every way possible. She confidently rocks her curves, proving that sexy should be taken seriously. She also expresses what's on her mind and wants everyone to hear it. Plus, Sofia Vergara's hair is soft AF. Have you ever laid eyes upon the majestic honey-tinged, chocolate-hued silken waterfall of hair that flows from her head? If you've longed for locks like Vergara's (and let's be honest here, who hasn't?), you can achieve them for under $3. Vergara spilled her best beauty secrets exclusively to Elite Daily readers, and, trust me, I'm already swiping out my shampoo based on her advice.
Modern Family premiered on ABC in 2009, when I was a senior in high school. I watched the premiere (and the other 23 episodes of the first season) with my own modern family: my mom and our two dogs. My mother and I were immediately so taken by Vergara's charms. She was a statuesque goddess with curves that she didn't try to hide. She was loud and proud and exuded confidence in a way that I couldn't remember having seen on television before.
And back in the year 2009, Keeping Up With The Kardashians was only into its third season. Yes, the E! reality series was gaining traction fast, but our favorite famous sisters weren't looked up to as the beauty icons they are today. At this point, my body type wasn't rarely culturally accepted or praised. I've always been curvy AF, with boobs and a butt that society (and my school's dress code) taught me to hide so I wouldn't be "distracting" to those around me.
Yet, Sofia Vergara didn't care if she distracted you. If you lost focus while you were walking and slammed straight into a street sign because you saw her, that was on you. She shattered the antiquated idea that sexy was synonymous with stupid. In my opinion, Vergara's character of Gloria was (and is) the most clever on the show. She always knew what she wanted, she knew how to get it, and she had a pure heart that motivated all of her actions.
It's nearly nine years later, and not much has changed. Vergara looks pretty much the same. She still rocks clothes that exude body confidence and chic style. Her hair, though lighter, is shiny as ever. She still portrays Gloria on Modern Family, though now she takes her almost-as-hot hubby, Joe Manganiello, as her date to the various awards shows she attends. Vergara has been a fashion icon from the jump, but her style and beauty routines have become more personalized over the years. She's really embraced what makes her unique.
Vergara's skin glows even more luminously now, which might be due to her innate happiness, or possibly in thanks to a more hydrating foundation. Most often, you'll see her on the red carpet rocking a bold lip in a red, berry, or crimson hue while her lids taking a softer, smoldering route. Her brows are thicker and fuller, framing her honey-colored eyes. Most astonishingly, somehow her ever-full locks have gained even more volume and shine.
They cascade down her back and frame her face the hair of gold-leaf angels in a gilded Baroque painting. If her hair wasn't caught on camera nearly 24/7, I would have sworn her hair was Photoshopped.
If you want to know Sofia Vergara's advice for exuding confidence at all times and achieving shiny AF locks, you can watch our exclusive interview with the star. Just like Gretchen Weiners, Sofia Vergara's hair is full of secrets too. Luckily, we were able to spill some of them for you.
Head & Shoulders Smooth & Silky Conditioner, $8, Target
Isn't it the best news you've heard all day? Sofia's secret weapon, Head & Shoulders Smooth & Silky Conditioner, retails for way less than a burrito with guac. I knew I loved this lady.