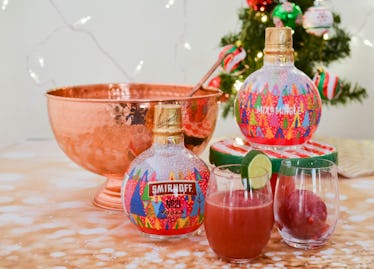 These Cute Holiday Ornament Bottles Are Filled With Smirnoff & I Want Them All
With the holiday season right around the corner, it's time to eat, drink, and be merry with the people you love most. This year, Smirnoff's holiday ornament bottles are ready to kick off the celebrations in festive fashion. Along with Smirnoff's beloved Peppermint Twist and their classic Smirnoff No. 21 Vodka, the company is releasing limited-edition holiday ornament bottles — and they're totally Instagram-worthy, so get excited.
The colorful bottles are perfect gifts and stocking stuffers for your friends who are 21 or over. Plus, the best part is they won't make your wallet cringe if you're shopping on a budget. (Hallelujah to that!) The four different bottle designs say things like "Mix & Mingle," "Don't get lit, drink responsibly," "#BestGiftEver," and "Eat, Drink, & Be Merry," which conveniently double as Instagram captions for selfies of you sippin' a holiday cocktail with your girlfriends.
If you plan on being the hit of every party you attend this season, you may want to consider bringing along one of these cute bottles as your plus one. And even if you're having a cozy night in, Smirnoff has you covered with a few treats. The vodka brand collaborated with Kendra Darling of Simply Darrling and Megan Marlowe of Strawberry Blondie Kitchen to come up with these festive cocktails that'll put you in the holiday spirit.
Serve up this jolly "Smirnoff Holiday Punch" at your party.
If you're hosting a holiday bash and inviting all of your favorite people, you'll want to have this "Smirnoff Holiday Punch" ready to make an appearance on the drinks table. In a large punch bowl, combine 12 oz. cranberry-raspberry juice, four oz. pineapple juice, 20 oz. orange juice, and two oz. lime juice. Then, add 10 oz. of your holiday ornament bottle Smirnoff No. 21 and one bottle of sparkling wine for bubbles.
If you want a truly Instagram-worthy presentation, garnish the bowl with slices of fresh limes, oranges, and cranberries. Have raspberry sherbet ready for your friends to scoop into their glasses before pouring the punch. Yum!
This "Ornament Cocktail" was made for the 'Gram.
If you think the ornament bottles are super adorable, you'll definitely want to try this cocktail, inspired by your favorite holiday decor. The "Ornament Cocktail" contains 1.5 oz. of the Smirnoff No. 21 Vodka, two oz. pomegranate juice, 0.5 oz. simple syrup, and a splash of lime juice all mixed together. Pour the drink into fillable clear ornaments, and serve up to your guests.
To take your decor game to the next level, consider hanging all of the drink ornaments on a tiny tree at your holiday party, so your friends could grab for themselves. Cheers!
Shake things up with these holiday-inspired Cosmos.
Calling all Cosmo lovers out there: You'll definitely want to mix this one up for your festive girls' night in watching Elf and exchanging gifts. Get your cocktail shaker ready to shake up some ice, 1.5 oz. Smirnoff No. 21 vodka, one oz. orange liqueur, and four oz. cranberry-pomegranate juice. Pour into a glass, and add red edible glitter to the rim for that picture-perfect effect. You could even garnish with a cranberry skewer for an additional holiday touch.
This pretty cocktail will be a serious hit. Don't forget to snap a pic of you and your friends with drinks in hand, and caption it with, "Shaking things up this holiday with my favorites."