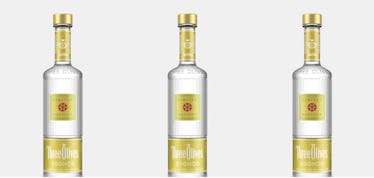 Eggnog-Flavored Vodka Now Exists For The Booziest Take On Your Favorite Holiday Sips
Halloween may be a few weeks away still, but according to my tastebuds, 'tis the season to start thinking ahead to the most delicious time of the year and all the festive sips and bites that will be on offer. Companies are already rolling out their Christmas selection of goodies and some seriously magical libations (gin-filled Christmas ornaments, anyone?), but my personal favorite may be a boozy twist on a classic holiday refreshment that's sure to be a hit at this year's holiday parties. Grab a glass, because Three Olives' eggnog-flavored vodka is here, and it's the delightfully boozy concoction that even Santa couldn't resist.
ICYMI, Three Olives ensured that everyone had one seriously lit summer with the launch of its infamous rosé vodka back in April. Now, the company is keeping the party going through the holidays with a tasty addition that promises to be just as basic and just as delicious. Enter eggnog-flavored vodka, which is the boozy sip you probably never knew you needed. According to Three Olives' website, the drink (which is 60-proof with a 30 percent ABV) is touted as "a twist on tradition" that can be served steaming hot or cold, depending on your preference.
The whole experience promises to imbue your senses with all the holiday feels. Per the product description, you'll immediately smell notes of a light butterscotch and baked nutmeg. Once you take a sip, you'll pick up a "whipping cream taste while bakery spices, like allspice and cinnamon, increase over time," according to the scientists behind the recipe. Apparently there's also undertones of orange peel and caramel imbued in the mixture, while your palate will be cleansed with the finishing tastes of "light woody clove and vanilla pod." All in all, it sounds extremely delicious and even a tad bit sophisticated, and I have a feeling it's going to be a sleeper hit this holiday season.
After hearing about this magical experience, you might be wondering where you can purchase the equivalent of Christmas magic in a vodka bottle. The good news is that you don't have to wait, because it looks like the limited-edition eggnog-flavored vodka is currently available as of publication, and you can find it on the Three Olives website retailing at $17.99 for a 750-mL bottle. You can choose to find a store near you or even have your vodka of choice delivered to you within one hour, so there's really no reason why you can't pregame your Halloween festivities with one merry-inducing bottle (just hold the Christmas music, because apparently science says playing "Silent Night" too early isn't good for your mental health, per Science Alert).
If you need further proof that you need Three Olives' eggnog-flavored vodka at your next gathering, the mixologists behind the concoction are also attaching a recipe to help you dream up some holiday cocktails. To make the Sleigh Ride, they suggest that you mix two parts of the boozy eggnog with one part Half and Half cream and a touch of honey. Mix it all up over ice, garnish with some nutmeg, and voila, you've got one delicious cocktail that'll be the toast of your holiday soirees. Cheers!