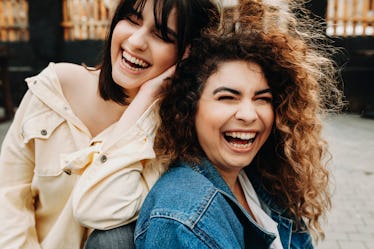 If You & Your Sister Are Inseparable, These 10 Things Are So Accurate
It's a known fact that if you're super close with your sister, she's your bestie for life. But what people might not tell you is that there are different layers to sisterhood. Of course, every relationship is unique, but you know that sisters who are inseparable are truly one of a kind. If that's you and your sis, you love her so much that you can't imagine not having her by your side at pretty much all times. Every cool new adventure you go on, you want her to experience it with you, and when you're not hanging out, you're texting nonstop. If that's not the PB to your J, I don't know what is.
Some sisters love one another endlessly, but each have their own crew and different hobbies they're involved in. You also know that not all sisters have the opportunity to live so close to each other in adulthood. That's why you feel so #blessed to have a sister you're not only so close to emotionally, but also by location. Sisters who are able to spend that much time together know these 10 things to be all too true.
This list might even make you laugh, and say, "same." Then, pass the phone over to your sis —because I know she's right there with you — and let her laugh along, too.