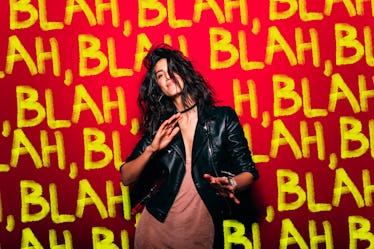 9 Things To Remember If You're Single On Valentine's Day, So You Can Celebrate Yourself
Valentine's Day is just another day. Perhaps that's all the reassurance you need if you're newly single, chronically single, or heck, even happily-ever-after single on Cupid's birthday. Of course, there are lots of things to remember if you're single on Valentine's Day, there are even plenty of fun things to do by yourself, with some pals, or with a first date, if you're really feeling it.
It's important to say that Feb. 14 can be a source of stress for all of us — from the cuffed up, to the single, to those in a poly relationship with six people. Yet, the middle day of the shortest month of the year doesn't need to be determined by your current romantic status. Valentine's Day can be a special time to reflect on the beautiful friendships you have or your own strengths and abilities. Love is, after all, romantic, platonic, familial, or self. If the red hearts and pink candies are making you feel blue, Valentine's Day is a great time to get some face masks, pump the self-care, and recenter your mind about all the gifts you give the world.
Here are nine things to remember if you're single on Valentine's Day.