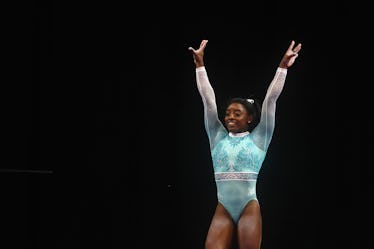 Simone Biles Paid A Beautiful Tribute To The Other Survivors Of Larry Nassar's Abuse
Tim Bradbury/Getty Images Sport/Getty Images
On Sunday, Aug. 19, Simone Biles wowed audiences yet again through her impressive performance at the U.S. Gymnastics Championships. Not only did she make history by clinching her fifth national title, but her outfit choice also spoke volumes. In case you might have missed it, Simone Biles' teal leotard speaks volumes by not having to say anything at all.
On Aug. 19, Olympic medalist Simone Biles sported a teal leotard during the U.S. Gymnastics Championships, and it truly represents so much. For those who don't know, teal is the color for sexual abuse survivors, and Biles said that she wanted to honor the athletes who were abused by former USA Gymnastics and Michigan State physician Larry Nassar. In December 2017, Nassar was sentenced to 60 years in federal prison on charges of child pornography. In addition to the child porn charges, Nassar pleaded guilty to ten counts of sexual assault in relation to the abuse accusations, and was sentenced in January 2018 to 40 to 175 years in prison. Biles, along with fellow U.S. teammates Aly Raisman, Gabby Douglas, and Madison Kocian, have stated that they were all abused by Nassar. Therefore, Biles' bright teal unitard is her way of standing in solidarity with her fellow survivors, and with others impacted by sexual abuse.
"I picked it out in January," Biles said at the championships. "But it is for the survivors, and I stand with all of them."
Not only did Biles' leotard make an impression, but the Olympian managed to sweep all four of the event titles, and win her official fifth United States Gymnastics Championship title.
Simone Biles is just one of the Team USA members to openly speak about surviving Larry Nassar's abuse. In January, Biles revealed that she had been abused by the former doctor for USA Gymnastics and at Michigan State University, and she joined the more than 130 women and girls who accused Nassar of similar abuse. Biles shared her story through Instagram, describing her struggle of coming to terms with the abuse and the difficulty in making her story public. She wrote,
I, too, am one of the many survivors that was sexually abused by Larry Nassar. Please believe me when I say it was a lot harder to speak those words out loud than it is now to put them on paper. There have been many reasons that I have been reluctant to share my story, but now I know now that it is not my fault.
Biles was the third member of the "Final Five," the women's gymnastics team who won gold in the Rio Olympics in 2016, to come forward about Nassar, following Aly Raisman and Gabby Douglas. During Nassar's sentencing hearing, many survivors, including Aly Raisman, Jordyn Wieber, Jamie Dantzscher, and McKayla Maroney, came forward to give their impact statements in court. Despite her fellow teammates sharing their impact statements, Biles decided not to show up to court for a very understandable reason. In January, Biles told Buzzfeed News that the reason why she didn't appear at Larry Nassar's case was because it would have been "too much to handle."
Although Biles may not have been there in person, it's obvious she was there in spirit.
Despite the tragedy these survivors had to go through, clearly these women haven't stopped supporting one another. Following Biles' performance, Aly Raisman took to Twitter to congratulate her teammate. Needless to say, they both deserve all the medals.
Through thick and thin, these ladies stand together no matter what.