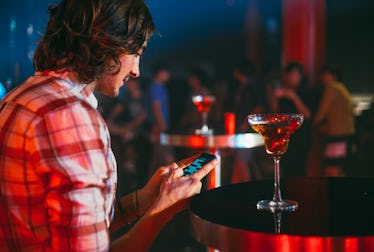 5 Ways Updating Your Location Settings On Tinder When You're Home For Thanksgiving Can Improve Your Game
Dating apps eliminate the problem of not knowing how many options there are for a mate in any given area. It's the perfect travel hack for meeting new people in a foreign country and getting in touch with people right in your hometown. If you're thinking of swiping through your turkey hangover this weekend, consider first whether or not you should update your location settings on Tinder for Thanksgiving break.
Regular Tinder users know that your current location settings are automatically set to reveal your most recent location, i.e. wherever you're swiping from at the moment. Beyond that, your options to personalize this feature further are limited to widening or narrowing your radius of potential matches. It's entirely up to you how far you're willing to go to meet someone for drinks or a post-turkey party. It can be as near as one mile away or as far as 100 miles away, depending on how significantly your turkey consumption has impacted your range of motion and your overall will to move ever again.
If you have Tinder Plus or Tinder Gold, you can even swipe around the world with the built-in Passport feature that allows you to swipe as if you were elsewhere (like in California even if you're currently located in Kentucky). Although you will temporarily be unseen by potential matches wherever you're actually located, this feature literally opens up a world of possibilities.
That said, there a few situations that might warrant adjusting your location settings on Tinder over Thanksgiving break.
1. You are traveling home for the holiday and want to get a head start.
Whether you're in college or have a full-time job, traveling home for Thanksgiving is a relatively short trip — usually about four days. You'd love to wake up to a home-cooked feast, like on Thanksgiving, every day for the rest of the year but your cute house plants would die and your family would probably drive you insane. Four days is fair. Doable. More than enough, to be honest.
But if you like to chat for a few days before you meet up in person, you should download Tinder Plus or Tinder Gold to access the Passport feature in advance of your trip. Adjusting your location settings to swipe in and around your hometown a couple days before you actually land could earn you at least 48 hours of valuable conversation time. Instead of asking non-essential questions about their job when you finally meet up, you can ask the really important things, like, "Your place or mine?"
2. You've already hooked up with everyone in your hometown.
Firstly, congratulations! They said it couldn't be done but you proved them wrong. Well done, my friend. Well done. But before you bask in the glory of your accomplishments, you should know that this creates a logistical problem over Thanksgiving break.
Assuming you're familiar with Barney Stinson's bro code on How I Met Your Mother, you know that his No. 1 rule about dating is, "New is always better." The only way to do right by Barney is, of course, to widen your location range this Thanksgiving break. You might even have to take inter-borough public transportation for this one so make sure it's worth it!
3. You live in a rural area and human contact is limited.
Again, you'll want to expand your range of options but for entirely different reasons. Statistically speaking, living in a rural area puts you at a disadvantage since there are fewer people per square mile. Widening your radius ensures that you don't match with the same five people who live in your neighborhood and who you determined were unsuitable matches years ago.
4. You anticipate you'll be legally unfit to operate a moving vehicle by the end of the night.
Thanksgiving weekend is about family and gratitude until you reach the legal drinking age — then, it becomes more about doing body shots with the kids you went to high school with and hooking up with your high school crush. Since Uber prices are known to surge at peak times, it's probably best to have your fun — and meet your matches — within walking distance from your house. Narrow that radius to a mile or two, max.
5. You can't wait to get back to wherever you live now.
This is another job for Passport. It's perfectly normal to miss your "new" home while you're back at your childhood home. Going home for the holidays is fun at first, but the novelty wears off quickly when you're trapped in a house with 10 or more people who have yet to grasp the concept of personal space.
If you're counting down the seconds until your flight back, it won't hurt to have a couple matches lined up for when you get back. Adjust your location settings to match with people where you live now so you have something to look forward to if your Thanksgiving break hasn't been as hot and steamy as you'd hoped.
The ability to adjust your location settings on Tinder is, by far, one of the best conveniences you have at your disposable. To neglect it would be to deny yourself the full Tinder experience. Adjust your location settings to suit your needs and swipe wisely this Thanksgiving.
Check out the entire Gen Why series and other videos on Facebook and the Bustle app across Apple TV, Roku, and Amazon Fire TV.