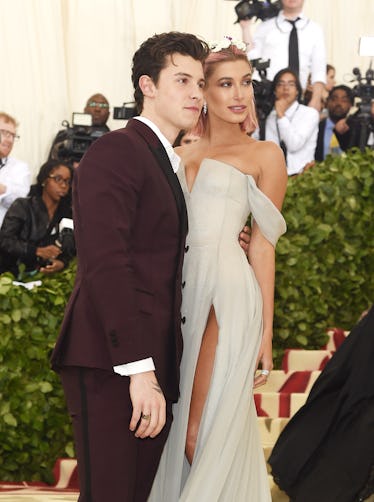 Shawn Mendes Just Broke His Silence On Hailey Baldwin & Justin Bieber's Engagement
Jamie McCarthy/Getty Images Entertainment/Getty Images
Justin Bieber and Hailey Baldwin got engaged on July 7, just a couple of weeks after rekindling their romance. Their whirlwind romance is pretty wild, and I don't think anyone expected an engagement to happen this quickly. One of the biggest celeb reactions to this news that fans have been eagerly awaiting is from one singer that Baldwin was recently romantically linked to. And Shawn Mendes' reaction to Hailey Baldwin and Justin Bieber's engagement is surprisingly sweet.
Bieber reportedly popped the big question to Baldwin while on vacation together in the Bahamas on July 7, according to TMZ. Bieber confirmed the engagement on July 9 in an Instagram post that partially read:
Was gonna wait a while to say anything but word travels fast, listen plain and simple Hailey I am soooo in love with everything about you! So committed to spending my life getting to know every single part of you loving you patiently and kindLY.
Fans have understandably been freaking out over the engagement and how much Baldwin and Bieber seem to love each other. All they seem to be doing at the moment is gushing over each other on social media, so it looks like this is the real deal.
Given that Baldwin and Mendes were once rumored to be an item themselves, it's no surprise that his reaction to this reported engagement was a highly anticipated one. And his comments regarding this engagement are seriously super sweet.
In an interview with Australian show The Project, Mendes said the following of Baldwin's engagement to Bieber:
I texted Hailey the day of, and I said congrats. That's what it is. I think everybody wants there to be more — there's not.
Rumors first started popping up that Baldwin and Mendes were getting serious towards the end of 2017. The two even attended the 2018 Met Gala together, further sparking rumors that they were the real deal. But in an interview with the Sunday Times that Baldwin gave in June, she confirmed that they are just friends. Baldwin said of Mendes:
We hang out and he's super-lovely and a very, very nice young gentleman," opened up to the Sunday Times. "But I am single... The dating pool is small. It's rare to find somebody that has the same ideas and morals as me. I have found people like that before, though, which is refreshing.
Mendes also confirmed that their relationship was not romantic, telling People:
Obviously Hailey and I are friends, and it was just really cool for me to be able to walk with her because she's a vet and it was my first year, so it kind of took the pressure off a little bit.
Then, when rumors of Baldwin and Bieber's romance started to erupt in June, Mendes told Canada's etalk that he didn't know if the rumors were even true.
"I don't know if they're dating or not," the 19-year-old singer said. "I love them both. They're both really awesome people."
Clearly, Mendes has a tremendous amount of respect for both Baldwin and Bieber. That's true friendship right there!