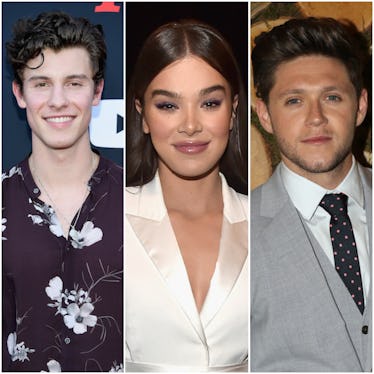 Shawn Mendes Basically Just Confirmed Niall Horan & Hailee Steinfeld Are Dating
Dimitrios Kambouris//Alberto E. Rodriguez/Neil P. Mockford/Getty Images Entertainment/Getty Images
Step back, world, because Shawn Mendes is here to deliver the tea about some of our fave celebs. If you think that the "In My Blood" singer won't gladly fill us in on the romantic lives of his famous friends, then you've got it twisted, because Shawn Mendes' comments about Niall Horan and Hailee Steinfeld are all sorts of mind-blowing. Sure, there was tons of speculation that the pair were more than just friends, but I'll be damned if Shawn Mendes' basically confirming it didn't just blow their cover. He not only gushed about the pair being his close friends, but also that he thought it was "common knowledge" that they were dating. It is now, thanks to you, Shawn!
In an interview on the red carpet at the MTV VMAs, Shawn Mendes spoke with Access Hollywood about all sorts of things: his love for Taylor Swift's music, his hopes of acting, and, oh yeah, pretty much confirming the fact that Niall Horan and Hailee Steinfeld are dating. No biggie.
When asked what he thought about Horan and Steinfeld as an item, he said, "Niall and Hailee — they're two of my favorite people in the whole world. Niall is one of my greatest friends and Hailee is one of the first people — you know when she first started out, I was one of the first people she worked with in music and I love them both."
And if you think it ends there, it doesn't. In fact, it gets way better.
"I thought this was common knowledge!" Mendes tells the reporter about Horan and Steinfeld dating, adding, "But I guess it was common knowledge for me since I'm friends with them both."
UM, YES SHAWN. IT WAS NOT COMMON KNOWLEDGE FOR THE REST OF US NON-FAMOUS PEOPLE WITH NO FAMOUS FRIENDS. Elite Daily reached out to Horan and Steinfeld's reps for comment on these reports, but did not hear back by the time of publication.
Check out the video and see for yourself (and fast-forward to around the 1:30 mark if all you want is the gossip):
Fans first started connecting the dots with these two back in February, when the two were reportedly seen at a Backstreet Boys concert in Las Vegas together. Concertgoers claimed that the pair were looking pretty cozy together, and there were videos of Horan and Steinfeld to prove it.
Then, just a month later, Steinfeld tweeted a photo of herself looking fresh to death in a Niall Horan t-shirt, and c'mon, we know a flirty tweet when we see one:
The caption she posted read, "51.4613° N, 0.1156° W," which one Twitter found to be the coordinates of a spot in London, and if you sync that with Niall Horan's tour dates, it's clear that he had a concert in London on Mar. 22, and another in Wales on Mar. 24, which was the date that Steinfeld tweeted the photo out.
Clever Hailee. Very clever.
Speculation only increased in May, when a report by People stated that Horan and Steinfeld were "holding hands" on what looked to be a date, so clearly *something* had to be going on with these two at this point. An onlooker who saw the two told People:
Niall had his arm around Hailee and they were holding hands. They definitely looked like a couple.
Elite Daily reached out to Horan and Steinfeld's reps for comment on these reports, but did not hear back by the time of publication.
The pair all but confirmed their relationship status once more on Thursday, Aug. 16, when The Daily Mail published a new report that included photos of Horan and Steinfeld kissing in Los Angeles.
But up until our good friend Shawn Mendes gave us the low-down, we didn't really have any concrete confirmation from Horan nor Steinfeld. So thanks, Shawn, for sharing the news that will probably get you into huuuuge trouble with two of your close friends.
We appreciate you, and we salute you.