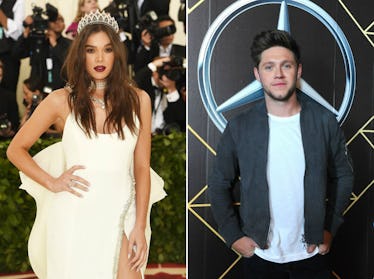 Niall Horan & Hailee Steinfeld Showed PDA On Their "Date Night" & I Can't Handle It
Jamie McCarthy/Getty Images Entertainment/Getty Images | Brad Barket/Getty Images Entertainment/Getty Images
Is the relationship between Niall Horan and Hailee Steinfeld getting serious? It's definitely possible. The two stars were spotted out and about in Los Angeles this past Sunday, May 20. During their date, which was reportedly very low-key, Niall Horan and Hailee Steinfeld showed PDA and a whole lot of it, apparently. That is, according to an onlooker who spotted the couple.
According to a report by People, Horan, 24, and Steinfeld, 21, weren't shy about holding hands and being affectionate. An onlooker who saw the couple explained what they saw:
Niall had his arm around Hailee and they were holding hands. They definitely looked like a couple.
Elite Daily reached out to Horan and Steinfeld's reps for comment on these reports, but did not hear back by the time of publication.
Back in February 2018, Horan and Steinfeld sparked rumors of a romance when they were spotted at a Backstreet Boys show. The two were seen dancing and singing together. At the time, a fan took to Twitter to post a few videos of them having a great time together. Those videos made other fans and media outlets perk up!
Soon after, a source close Horan and Steinfeld told People that Steinfeld wasn't really looking for a romance:
She's not actively pursuing anything. Niall is really into her but she's unsure if she wants to get into something new right away.
Well, it seems that Horan got under Steinfeld's skin a bit, since she and Horan are still going strong five months later!
That source also explained that Horan and Steinfeld had been friends for a long while before the romance rumors started:
They've been friends for a long, long time and are very comfortable with each other. But it's nothing serious right now.
Additionally, E! News reported that Horan and Steinfeld are still casual in terms of romance. The source spoke to the outlet back in March 2018:
It's true that Hailee and Niall are dating, but at this point it's still pretty casual.
So, basically, a strong friendship turned into something more for these two! But how did it all get started? As was mentioned earlier, Horan and Steinfeld have been friends for a long, long time. Horan even referred to Steinfeld as a "best friend" back in December 2017 in an Instagram post for the singer's birthday:
Happy birthday to the loveliest person on the planet and one of my best friends @haileesteinfeld . Have no idea what the hell is going on in this photo. Love ya hails
Clearly, they were super close before they started getting romantic, which is really sweet.
While Horan is happy to proclaim his appreciation of Steinfeld on social media, Steinfeld wants people to know that she's a private person. In a January 2018 interview with Us Weekly, Steinfeld explained:
I feel so lucky that my fans care enough about me to know what I'm doing every second of every day, but I think that sometimes it's hard for people to realize that there are boundaries to a person's life and personal life. I am a very private person. I do love that I have the opportunity to share with them what I'm comfortable with and they're there to listen and support me.
Whatever is going on between Steinfeld and Horan, I'm sure the fans are wishing them the very best of luck.
Romance aside, though, Horan and Steinfeld are pretty busy. Both are embarking on tours this summer, so their schedules are about to get pretty wild. Horan will be touring with Maren Morris, while Steinfeld will be playing venues with Charlie Pluth.
Since their summer schedules are jam-packed over the next few months, it looks like the two entertainers are sneaking in some date nights and alone time right now. Can't blame them! They deserve it.