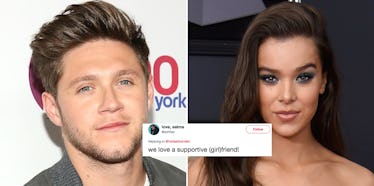 Fans Think Niall Horan & Hailee Steinfeld Are Dating Because Of A Clue In This Photo
Monica Schipper/Dimitrios Kambouris/Getty Images/Twitter
Hailee Steinfeld and Niall Horan are giving fans reason to believe they could be more than friends. Look, I'm not going to officially come out and say Niall Horan and Hailee Steinfeld are dating. All I'm saying is don't be surprised if we learn they are. Fans have been speculating for a couple of months now that the two singers are in a relationship, and they think the latest "clue" Hailee Steinfeld and Niall Horan are dating can be found on Steinfeld's Twitter. The "Love Myself" singer tweeted a very sus photo of herself on Saturday, March 24, that does nothing to dispel any dating rumors. The photo shows her sitting in what looks to be either a bar or restaurant wearing a Niall Horan concert tee. She's wearing his merch, guys! She's either being a supportive bestie or she's straight-up rocking her boyfriend's tour merch.
Rumors of Steinfeld and Horan's possible relationship have been circulating for a while now. On Feb. 17, Hailee Steinfeld and Niall Horan were seen at a Backstreet Boys concert in Vegas together, and while it looked like they were having a great time with their group of friends, some of the videos caught by concertgoers show the two looking like a little more than friends. At one point in one of the videos, Steinfeld gently put her hand around the back of Horan's neck, and look, I know a move when I see one. Game recognizes game.
And this photo of Hailee Steinfeld wearing a Niall Horan T-shirt is not doing Steinfeld any favors if she's looking to end the dating rumors.
Her caption on the tweet read, "51.4613° N, 0.1156° W." One smart Twitter user looked up these coordinates, and as it turns out, the coordinates are a spot in London. When you check out Niall Horan's tour dates, you'll see he had a concert in London on March 22, and another concert in Wales on March 24 — the day this photo was tweeted.
So was this photo taken the night of the concert on March 22? Did Steinfeld buy the shirt while there, or did she snag a free one? Is Steinfeld traveling with Horan on parts of his tour?! Whatever the truth is, it looks like Steinfeld was most likely at Horan's concert on March 22.
Fans who ship Horan and Steinfeld (that sounds like a law firm, TBH) completely fangirled over the photo.
One fan looked up the location Steinfeld's coordinates point to and it seems to be somewhere in Brixton, which is part of London.
I checked out the coordinates myself on the good old Google Maps, and I got the same results. When you type the coordinates into Google Maps, the address that pops up is 469 Brixton Rd. Horan's concert was held at the O2 Academy Brixton, according to his website, which is just a seven-minute walk away from the address Steinfeld posted. Was it completely necessary for me to get to this level of stalking? Yes. Yes, it was. My sleuthing knows no bounds, but also Steinfeld literally posted the coordinates herself, so this was clearly a challenge for us to figure out where she was on March 22. And it definitely looks like she was at Horan's concert.
Other fans are taking Steinfeld's photo as less of a confirmation of a relationship and more of a hint that a music collaboration is on the way.
Some fans are asking for both.
Fans were also losing it when they saw these videos of Niall Horan and Hailee Steinfeld on what definitely looked like a date at a Backstreet Boys concert.
Did you see that neck grab at the end?! Game. Recognizes. Game.
I'm willing to put money on the fact that these two are dating.
Quick! Someone ask Gwen Stefani what she thinks! (She was at the concert too.)
According to E! News, Steinfeld and Horan went XS Nightclub in Vegas after the concert was over. They sat together at a VIP table with a group of friends while Diplo DJ'ed.
Horan and Steinfeld have never confirmed or denied their rumored romance, but they've always maintained they're close friends. On Dec. 11, 2017, Horan posted an Instagram in honor of Steinfeld's 21st birthday. The photo was a goofy shot of them at the 2017 American Music Awards. His caption read,
Happy birthday to the loveliest person on the planet and one of my best friends @haileesteinfeld . Have no idea what the hell is going on in this photo. Love ya hails
"Love ya hails" could literally mean anything. It could mean "I love ya like a sister." It could mean "I love our friendship but I would also love to ruin it, so let's date already." It could mean "My love for you burns with the fire of one thousand suns." But I'm just speculating here! These two could totally just be best friends, but I'm going to sit here patiently and wait for the day we learn they're actually together because I ship this. Hard.