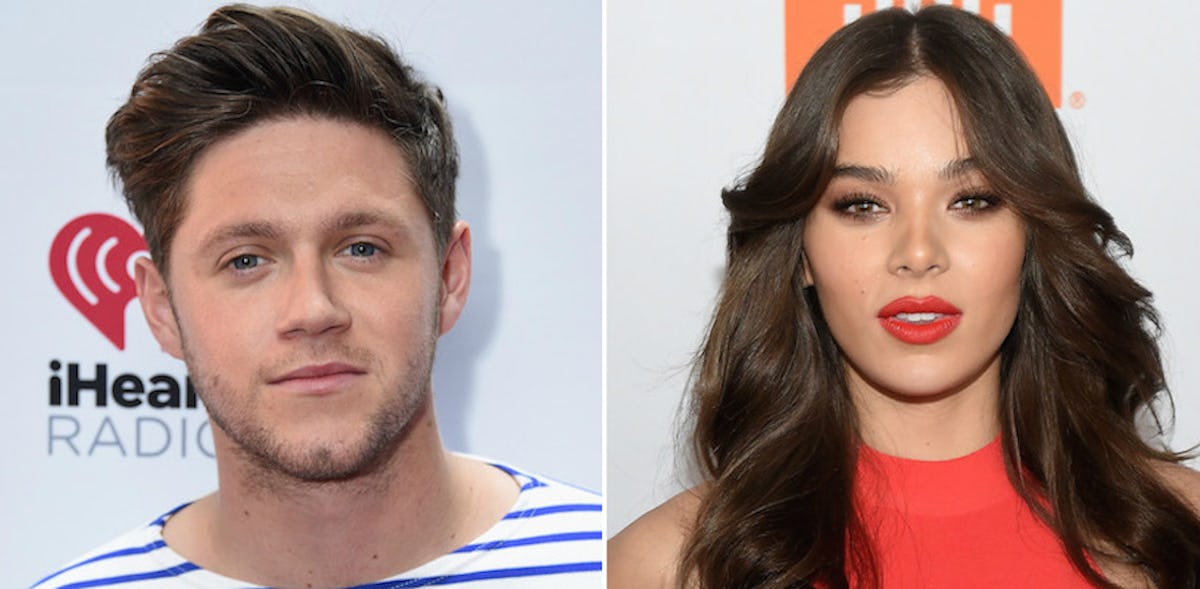 This Video Is Making People Think Niall Horan & Hailee Steinfeld Are Dating
Michael Loccisano/Nicholas Hunt/Getty Images
Niall Horan and Hailee Steinfeld mightttt be a thing, you guys. The two singers were seen at a Backstreet Boys concert in Las Vegas this Saturday, Feb. 17, and it looked like they arrived together based on videos a concertgoer took of them. The videos show Horan and Steinfeld having a good time with friends, but also getting a little touchy-feely at some points. So are Niall Horan and Hailee Steinfeld dating? These videos definitely make it look like they're on a date.
In one of the videos, the Backstreet Boys were singing "I Want It That Way" when AJ McLean went over to where Horan and Steinfeld were standing. Horan sang part of the iconic bop with him, boy band member to boy band member, and it was honestly amazing. The moment was undoubtedly shared on the big screen at the concert, but a concertgoer standing near Horan and Steinfeld caught a video of the whole thing and what happened afterwards. After McLean walks away, you can see Steinfeld put her hand around the back of Horan's neck in a way that definitely says, "OMG, babe, that was amazing!!" Sooooo fans think it kind of looks like a date!
The videos of Horan and Steinfeld were caught by Twitter user @ninergrl6, and they show the two singers having a great time. (Gwen Stefani also makes an appearance which is just a delight.)
Now that the possibility of Hailee Steinfeld and Niall Horan being together is a thing, people on Twitter are shipping them.
What would their celebrity couple name be, guys? Nailee? Heinfeld? Storan? Just shooting ideas here!! According to E! News, the pair went to XS Nightclub after the show and partied with a small group of friends.
There have been rumors these two are dating in the past thanks to some Instagram posts, but they've never confirmed any of the rumors and still say they're just close friends. So maybe going to this concert was just a ~platonic~ group thing, but I don't know. That neck grab is giving me pause!!
Horan posted on Instagram in honor of Steinfeld's 21st birthday back in December 2017. The photo was a funny shot of the two at the 2017 American Music Awards with the caption,
Happy birthday to the loveliest person on the planet and one of my best friends @haileesteinfeld . Have no idea what the hell is going on in this photo. Love ya hails
Fans were shipping them then, and they're shipping them now.
The last person Steinfeld was reportedly dating was Cameron Smoller, a social media personality. They had reportedly been together for about a year, but they haven't posted anything online together since November 2017. Some people think this means they broke up.
But the last time Steinfeld talked about relationships, she wasn't even talking about her own. She was talking about the time she basically set up Sophie Turner and Joe Jonas. Yup, Hailee Steinfeld did that. In an interview with Nova 96.9's Smallzy Surgery show on Wednesday, Jan. 31, 2018, Steinfeld revealed Turner had asked her what she thought about Jonas before she started dating him. Steinfeld said in the interview, "Oh yeah. I mean, I will say, I did get that text from Sophie being like, 'So tell me about Joe,' and I was like 'Go for it!'" So basically, we all have Hailee Steinfeld to thank for Sophie Turner and Joe Jonas' engagement. Now if only Sophie Turner would tell us what the heck is going on with Hailee Steinfeld and Niall Horan... I have lots of questions, people!! Please tell me ASAP.