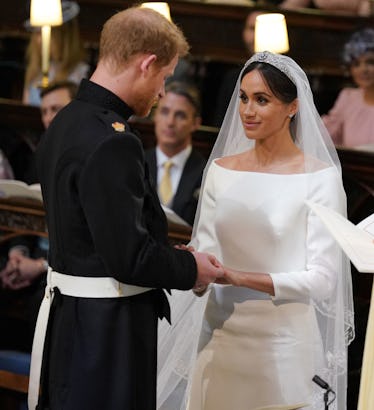 Meghan Markle's Hairdresser Says She Was Chill AF Before Her Wedding & It's #Goals
WPA Pool/Getty Images Entertainment/Getty Images
I get stage fright before talking in front of a group of, like, 10 people so it's safe to say that tying the knot in front of some of the most powerful people in the world as millions of viewers tune in across the globe to watch it happen, is absolutely, positively nerve-wracking. If you didn't catch my drift, I was referring to being in Meghan Markle's shoes this past Saturday. While some people might be a nervous wreck, Serge Normant, Meghan Markle's wedding hairdresser says the star-turned-royal was calm, cool and collected before her big day.
Before the big day, Markle had only had one hair trial with Normant. While that might leave some people feeling nervous, according to the hairdresser, Markle was totally chill when he arrived at her hotel room.
While I would probably spend the morning before my royal wedding alternating between breathing into a brown paper bag and throwing up while my mom held my hair back, Markle was totally unfazed. In fact, she started the day off with a cup of coffee... you know, just like you do before you go to work on a random Tuesday.
"We woke up early, had a little coffee and then just went on," Normant, told reporters Sunday at Kensington Palace in London. "It was all smiles, it was just one of those dreamy moments." Yep, just one of those dreamy moments where you casually sip on your coffee and get ready to marry the prince of England in front of God and literally everyone else. NBD.
"It was the easiest process in the world," he continued. Did you read that, people? The easiest process in the WORLD. That means he's putting getting ready for the royal wedding above other processes like, hmmm, say brushing your teeth or breathing or blinking.
"She was calm and chatty," Normant said. "She was very happy, it was a beautiful morning — the perfect morning to get married." I wonder what she was chatting about that morning. The beautiful weather outside? Her new in laws? How much she loooooves Harry? Who's going to be at the afterparty? Ugh, I'd give anything to be a fly on the wall at that hotel room.
As if this morning with Markle wasn't already perfect enough as is, Normant explained that he also had the pleasure of getting to know Markle's mom Doria Ragland, who was also in the room while he did the bride's hair. He described watching the two of them interact as "just beautiful." MY HEART.
OK, I guess there's just one last question here: was Markle nervous before her big day? Well, according to Normant, the answer to that question is a big fat no. When asked about the matter, he responded by saying: "No nerves. If there were there, they didn't show. She was very happy, very excited."
I mean, normally I would be quick to call BS on someone saying a human being could physically have "no nerves" before marrying the prince of England in a $45 million ceremony in front of basically the whole entire world, but I think anyone who watched the fairytale-like wedding can attest to the fact that Markle looked totally and completely relaxed.
Her chill demeanor was totally obvious to anyone watching the ceremony on TV or in person and I think we can attribute that to one thing and one thing only: she's really, truly in love.
Check out the "Best of Elite Daily" stream in the Bustle App for more stories just like this!