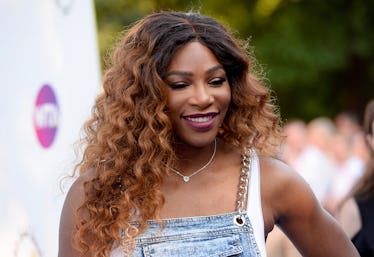 Serena Williams Gave Meghan Markle A "Royal" Duchess Hoodie, Because #FriendshipGoals
Eamonn M. McCormack/Getty Images Entertainment/Getty Images
Serena Williams is nearly unbeatable on the tennis court, in fashion design, and it turns out, in friendship, too. The athlete has a certain friend over at Buckingham Palace, and you might just see a certain duchess in some new threads soon. Serena Williams' "Royal" sweatshirt looks to be designed with her BFF Markle in mind, and Williams just confirmed that she sent the duchess a hoodie. Um, Serena, can I get one, too?
Williams is often referred to as the queen of the tennis court, she even has a new collaboration coming up centered around that nickname. The Nike x Virgil Abloh for Serena Williams collab is dubbed "The Queen Collection" as an homage to the tennis pro's legacy. Williams has her own line of clothing, as well, called Serena. Serena is less about performance wear and focuses more on everyday, ready-to-wear, denim, and some athleisure pieces. In that latter category is a sweatshirt called the Royal Duchess Cropped Hoodie, and in an interview with The Today Show, Williams casually dropped a bombshell that she sent one to her friend Markle! Williams mostly discussed motherhood with NBC's Stephanie Ruhle, though she was wearing her brand's sweatshirt. After the interview, Ruhle revealed that Williams bestowed one upon Markle.
"You might see it on her friend, Meghan Markle — she sent her one," said Ruhle. I die.
Williams wore the sweatshirt with a pair of her own jeans, the Retro Fit Jean in Light Wash ($135; serenawilliams.com), if you want to get her exact look.
Royal Duchess Cropped Hoodie in Black
Williams hasn't confirmed that the sweatshirt was designed with Markle in mind, but the fact that it has the word royal printed across the chest and, more importantly, that it's called the Royal Duchess Hoodie, basically proves that it's for her. Markle is the Duchess of Sussex, after all.
Definitive proof that Markle and Williams are friends is that Williams and her husband, Alexis Ohanian (co-founder of Reddit), attended Markle's wedding to Prince Harry back in May.
To return the favor, Markle cheered on the athlete during Williams' final match in Wimbledon with sister-in-law Kate Middleton. Talk about #friendshipgoals.
Royal Duchess Cropped Hoodie in Blue
The revered hoodie also comes in blue with black writing — I wonder which one Williams sent to Markle. Maybe both! As much as I'd like to see Markle wearing one of these hoodies, my guess is that her grandmother-in-law, the literal Queen of England, doesn't approve of hoodies. Per royal fashion rules, Markle's hardly allowed to wear jeans or show too much skin, so I'd bet a midriff-bearing sweatshirt in public is off-limits, unfortunately.
Hopefully, Markle can enjoy her comfortable gift at home, but you may not see her sporting it out in the open anytime soon. Sad.
Williams rocked the sweatshirt alongside another imperial individual — Nicki Minaj, whose latest album is titled Queen. "The only thing better than one Queen is.. two," posted Williams. Minaj is more likely than Markle to actually wear the sweatshirt, so, fingers crossed!
"Queen + Queen = Royal," captioned Williams. This is basically American royalty, right here.
Queen.