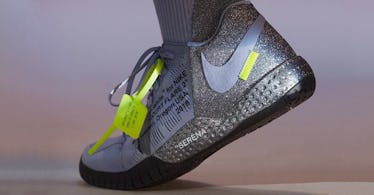 The Nike x Virgil Abloh For Serena Williams Collection Features The Glitter Kicks Of Your Dreams
Courtesy of Nike
Serena Williams is a tennis legend, Nike is an iconic sneaker brand, and Virgil Abloh is one of the fastest rising fashion designers ever. What do you get when you combine all of those things? The Nike x Virgil Abloh for Serena Williams collaboration, dubbed "The Queen Collection," which is a true trifecta of talent.
Williams will be playing in the 50th annual U.S. Open tennis competition in New York City beginning on Aug. 27, and while the pro is already known for her daring outfits on the court, this year will be even more special. Williams and Nike, her longtime sponsor, tapped fashion designer Virgil Abloh to design the athlete's uniforms this year. Abloh is the name behind breakout brand Off-White and the current head of menswear for Louis Vuitton. Abloh used to be creative director of Yeezy, and when he debuted his own line (Off-White) in 2013, West and seemingly the rest of Hollywood immediately hopped on board.
Now that Abloh has become basically synonymous with high fashion streetwear and athleisure, it only makes sense that he'd crossover into true performance-wear. "The Queen Collection, the result of a union between Nike and Abloh for Serena, brings these influential forces in tennis and fashion together, uniting two transcendent figures who find common ground in pushing boundaries and inspiring youth," says Nike in a statement. Williams is slated to debut her "Queen" looks at the U.S. Open, and Nike has plans to release a limited amount of the goods to the public soon after.
Williams is a fan of ballet, which inspired this particular design. Abloh also spoke about the dance vibes in this outfit:
What I love about tennis is the gracefulness. It's an aggressive and powerful game, but it takes touch and finesse. So the dress is feminine, but combines her aggression. It's partially revealing. It's asymmetrical. It has a sort of ballerina-esque silhouette to symbolize her grace. It's not about bells and whistles and tricks. It's just about it living on the body, and expressing Serena's spirit with each swing of the racket."
The ballerina-inspired tennis dress also comes in black, and has an illusion neckline to give the look of a one-shoulder dress.
I can already picture Williams rocking this jacket off of the court after her matches.
The Ten: Blazer
Time for the good stuff: The shoes. The collection has three different pairs, each designed from existing Nike styles. This pair of Blazer sneakers features Abloh's signature plastic pull-tab and has a pink and purple ombre outer sole. The shoes each have the style name printed on them, as well as "Beaverton, Oregon," in reference to Nike's headquarters.
The Ten: Air Max 97
The Air Max 9s have a similar pastel sole while also showing off the actual air in the sole. The shoes also all have laces printed with the word "Shoelace," lest you forget what they are.
Nike Court Flare 2 PE
The most exciting item from this entirely epic collaboration is this glorious pair of glittery silver sneakers.
So many sparkles, I cry.
The glitter at the heel is so dense, it's literally making me swoon. The shoes are also sprinkled with pops of neon yellow to really make them shine.
Nike has announced that select items from The Queen Collection will soon be available for purchase exclusively in New York City. Keep an eye on Nike's SNKRS for more launch info!