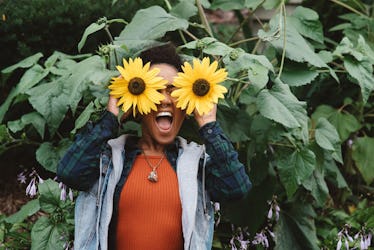 These 3 Zodiac Signs Will Have The Best Week, Thanks To Jupiter
We have another week journeying through clarifying, organizing, and analytical Virgo season as our cosmos continue to shower our universe with replenishing energy. If you're feeling pessimistic about life, the positivity surging through the air will help you snap out of it and turn over a fresh life. With Jupiter — planet of expansion, luck, philosophy, knowledge, and adventure — forming positive alignments with both the bright sun and shadowy Pluto, this will be a time of reacquainting the lightest parts of yourself with the darkest parts. Sept. 10, 2018 will be the best week for these zodiac signs: Virgo, Sagittarius, Aquarius. If your rising sign is lucky enough to be in any of these signs, you'll reap the rewards just as well.
Jupiter is more than a planet of luck. It's a planet of wisdom; a planet responsible for the enlargement of your perspective. It asks you to never forget that growth and confidence thrive only when you accept every aspect of yourself, including your imperfections. This is not to say that you should excuse yourself from working on your flaws. On the contrary, it merely means you should forgive yourself for all your past transgressions so that you can learn from them. With Jupiter's guidance leading the way, the following signs will grow beyond their wildest dreams.
Virgo: It's Virgo Season And You're On Top Of The World
I know you're not big on being the center of attention or having the spotlight shining on you, which is why I hope you haven't forgotten that it's still Virgo season and you are definitely still zodiac royalty. Your solar return is about feeling proud of everything you've accomplished thus far and everything you've survived in the midst of it. When the sun forms a sextile with lucky Jupiter and a trine with dark, soulful, and traumatic Pluto, you'll find yourself healing in ways you never even realized needed healing. Solar returns often have the mysterious ability to tie off loose ends and help you make sense of how far you've come, so allow this week to flood you with motivating confidence.
If you find yourself flipping through old photo albums, reminiscing on the past, or tearing up about the darker times, don't fight it. Growth, even when it's positive growth, doesn't always present itself in an obvious light. Trust your heart and you'll be lead the right way.
Sagittarius: You're Being Charged With Positive Energy
Jupiter, your ruling planet, makes the astrological rounds in a major way this week, so prepare to feel like you're at the top of your game and more optimistic about the future than ever. As Jupiter forms positive alliances with the sun, Mercury, and Pluto, you'll find yourself healing and expanding all throughout several parts of yourself. While you may feel like you're racing through a long and complex journey, there's no doubt you won't enjoy every minute of it, including the ups and downs.
When the first quarter moon in Sagittarius dazzles our sky by the end of the week, you'll have reached an important understanding in the search for your identity. Take note of your realizations during this time and take a long, contemplative look in the mirror. Love the person that you see and feel proud of the person that you've become. It's only uphill from here.
Aquarius: Prepare To Feel More Alive Than Ever
Now that Mars — planet of motivation, energy, and carnal instincts — has re-entered Aquarius after its stressful and confusing retrograde, it's time to revel in the galvanizing blast of energy you're about to experience. If you've felt lazy, lost, confused, or unsure of your true feelings, this transition will clear away all your strangeness, replacing it with a fierce desire to go after your goals with all your might.
This energy boost comes at a beautiful and fateful time, especially because you've been grappling with both internal and external changes since the total lunar eclipse in Aquarius that shook the universe back in July. Whether it shattered your world or not, you're in the process of picking up the pieces and starting anew. This week will activate your visionary nature.