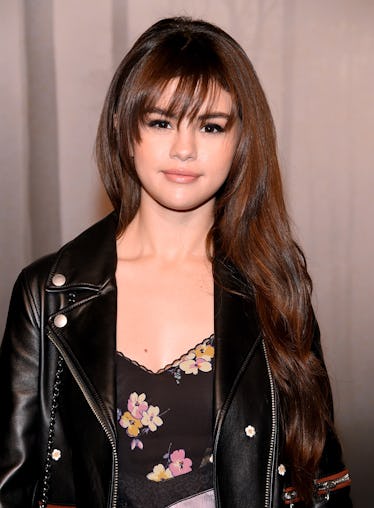 Selena Gomez Clapped Back At Stefano Gabbana For Calling Her Ugly In The Chicest Way
Jamie McCarthy/Getty Images Entertainment/Getty Images
When it comes to New York Fashion Week street style, nothing is off limits. The most brazen looks come out to play as sported by editors and celebrities alike, ensuring no day goes without sartorial drama. But nothing brought the drama this year more than Selena Gomez's Ugly hair clip. By "Ugly hair clip" I mean her bedazzled barrette that literally spelled out the word "UGLY" in all caps and was seen as a direct response to a rude/childish/disgusting (take your pick) comment made about Gomez by Stefano Gabbana earlier this year.
To refresh your memory on the issue, we must flashback to June of this year when The Catwalk Italia Instagram account uploaded a post that was a compilation of five images of Selena Gomez in red dresses with the caption reading, "#selenagomez rocks red dresses. Choose your fave: 1, 2, 3, 4 or 5?" Rather than supporting Gomez and responding with his favorite look or simply just not responding to the post at all, Gabbana (who, yes, is one half of Dolce & Gabbana) commented, "E' proprio brutta!!!," which essentially translates to "She's really ugly!!!" in English. Yes, this actually happened, as sickening as it is to believe.
The all-knowing fashion Instagram account @diet_prada spotted the comment and publicly called out Gabbana with a post on its Instagram stories. "Omfg #pleasesaysorrytoselena," the caption read. Apologize Gabbana did not.
It's abhorrent for any grown man to call a woman ugly, much less while hiding behind a screen on social media. But the fact that Stefano Gabbana — a man with monumental influence in an industry known for championing unrealistic (and unhealthy) beauty standards — did this is especially disheartening.
But here's a little something to restore your faith in humanity: Miley Cyrus responded to Gabbana's post by commenting on a photo of herself and Gomez posted to the fan account @mileyofficially. "Well what that d*ck head said (if it's true) is f*cking false and total bullsh*t," reads the first comment. The follow-up comment reads, "She's fine as f*ck." Girls supporting girls? Especially ones who work in the same industry that often pits females against one another? F yes.
While Gomez herself never officially or directly responded to Gabbana, it's hard not to see her "UGLY" hair clip as a delayed clapback. She wore it pinned on one side of a chic ponytail that featured a beautiful plait along the front-center part while out and about one night after the shows, undoubtedly knowing she'd be photographed wearing it.
The best thing about Gomez's response is that it was neither vicious nor rude nor vindictive. It was a rather funny, not to mention chic, way to show Gabbana that his nasty words and opinions meant very little to her to the point of being something to joke about. Gomez has certainly got chops, but she's got a great sense of humor too.
At what point will the fashion world tell Gabbana that enough is enough and stop blindly supporting him despite his disrespectful behavior? Only time will tell.