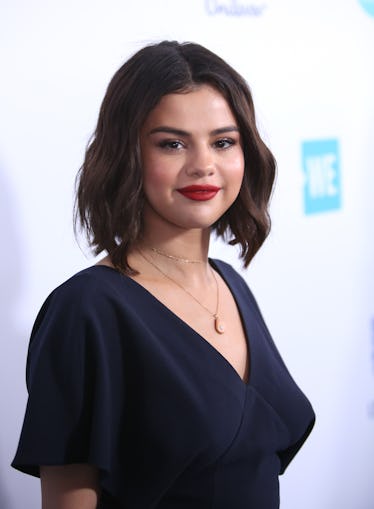 Selena Gomez Says She Has Good Dating Intuition For Other People & I Can Relate
Jesse Grant/Getty Images Entertainment/Getty Images
Who needs a matchmaker when you have Selena Gomez to help you out? While her own personal love life remains somewhat of a mystery for us regular, non-famous humans, it seems that she doesn't mind filling her fans in on the fact that she basically played Cupid when it came to her parents finding love with their new respective partners. So not only is Gomez a beautiful, world-renowned pop star, but she's also a relationship expert for her family. Is there anything that she can't do? LOL, of course not, she's basically a superhero. And Selena Gomez's comments about her dating intuition are actually so, so relatable (and also proof that Gomez is pretty much a relationship genius).
Gomez sat down with Entertainment Tonight's Cameron Mathison during a press junket for her upcoming movie, Hotel Transylvania 3: Summer Vacation, where Gomez stars as Mavis, Count Dracula's daughter, who is trying to help her single father find love again. During her interview, Gomez candidly opened up about what it was like when her parents started dating other people when she was younger.
When asked how her real-life intuition was, Gomez said that she likes to think that she has "decent discernment," and talked about how she'd used to react when her parents would date. She said,
I like to say [that I have] decent discernment. But I come from a separated family, so I used to get very protected over my parents when they would date.
She added that when her parents were dating people that she was unsure of, it would "throw her off," but then mentioned that she would "give them a little test" to make sure it ultimately felt right.
Can we just imagine, for one quick moment, a young Selena Gomez sizing up potential dates that her parents brought home for her to meet?
But Gomez must have been doing something right, because both of her parents, Ricardo Gomez and Amanda Teefey, met and fell in love with other people and gave Gomez not one but two half-sisters, 5-year-old Gracie Elliot Teefey and 3-year-old Victoria Gomez.
Gomez was asked about her sister Gracie, who just had a birthday, and said,
She's my biggest supporter. It's awesome ... She's just there to have a good time. I don't think my sister overthinks anything and that's what I love about her. She enjoys it. She's excited about life.
If I was Selena Gomez's half-sister (and 5 years old), I'd be excited about life and not overthink anything, too. Just sayin'.
And, while it's clear that she's an expert at ensuring her parents were matched perfectly with a partner, we're still not sure where Gomez herself stands in the dating pool. There was that one time when the world thought that she was dating Justin — LOL, not Justin Bieber, but Justin Theroux.
Back in May, it was thought that Selena Gomez and Justin Theroux were dating following his split from Jennifer Aniston (pour one out for that relationship, pls).
An inside source close to the pair reportedly told Life & Style that they were there for each other after each of their respective breakups, telling the publication:
They've known each other for years through their manager. Initially, they leaned on each other for emotional support after going through messy breakups.
Elite Daily reached out to Gomez and Theroux's teams regarding the reports but did not hear back by the time of publication.
While I think there's probably nothing going on there, I'm putting all of my trust into Selena with this, because it's clear that this girl knows what she's doing. Let's all give a standing ovation for our girl — she's earned it.
If anyone is looking for a dating service, just hit up our girl Selena. She'll hook you up (pun totally intended).