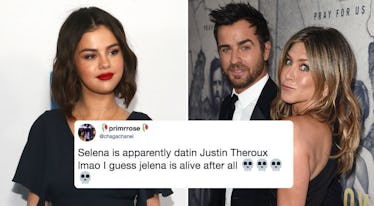 The Internet Thinks Selena Gomez Is Dating Jennifer Aniston's Ex-Husband & I Can't
Tommaso Boddi/Getty Images; Kevin Winter/Getty Images
Jelena may be back, everyone! I REPEAT: Jelena may be back — but not at all in the way you were hoping. By that, I mean I know you were totally hoping that Selena Gomez and Justin Bieber had decided to give their nearly decade-long on-and-off romance one last shot after splitting up two months ago. But alas, that is not what I mean. Selena may be gettin' close to a Justin, but it's not the Biebs. According to Life & Style, Gomez is getting super close to Jennifer Aniston's ex-husband, actor Justin Theroux. Elite Daily reached out to Gomez and Theroux's teams regarding the reports but did not hear back by the time of publication. So, are Selena Gomez and Justin Theroux dating?
Well, the short answer is no... not yet?
An insider close to the pair — who run in the same circles thanks to having the same management — reportedly told Life & Style that they've found some serious common ground after going through very public breakups. As you know, Gomez had a rocky breakup with Bieber in March, while Theroux split from his wife, Jennifer Aniston, after two and a half years of marriage in February. The insider explained:
They've known each other for years through their manager. Initially, they leaned on each other for emotional support after going through messy breakups.
In another report, an insider claims that Gomez and Theroux's chosen method of communication is FaceTime. Elite Daily reached out to Gomez and Theroux's teams regarding the reports but did not hear back by the time of publication.
"They FaceTime and text late at night," the source told Life & Style. "[They] have intimate conversations about where they're going in life and their career goals."
Apparently, Gomez was a "huge fan" of Theroux's HBO series The Leftovers. The source didn't get into whether Justin had found the time to binge-watch Wizards of Waverly Place, but if he hasn't, it's totally his loss. Obviously.
Anyway, Theroux is apparently Gomez's mentor at this point. The source explains,
Justin's encouraged her to use her gifts as a singer.
They've reportedly even started opening up to each other about more personal things, like their love for babies and their exes.
They've even discussed how they adore babies and how they'd each love to become a parent one day ... She finds Justin [Theroux] to be a breath of fresh air after going through such turbulent times with her other Justin. Selena will always carry a torch for her ex, but right now, Justin [Theroux] is helping her take her mind off things."
Despite their massive age difference (Gomez is 25, while Justin is pushing 50), they've reportedly gotten closer than ever in recent weeks. The source came *this close* to saying the pair are romantically linked, but didn't quite go there. "It's turned into something more than friendship," they claimed. "Selena and Justin are falling for each other." Okay... vague enough?
So, basically, all we know for sure is that Gomez and Theroux have the same management and that they run in the same circles. Actually, they were spotted hanging out together in New York City in early May with some A-list pals like Gomez's The Fundamentals of Caring co-star Paul Rudd.
But the extent and nature of their relationship is definitely still up in the air. That has not, however, stopped Twitter from losing their minds completely — especially since Gomez seems to be super close to Theroux's ex. Here's Gomez hugging it out with Aniston.
Yup, Twitter has feelings.
I don't know how to feel about all these Jelena 2.0 rumors. Can't we just go back to the days when there was only one Justin in Selena's life we had to worry about?