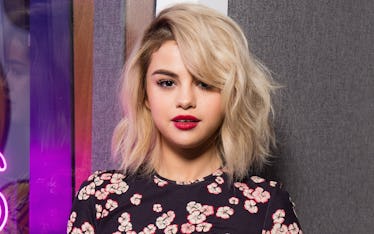 Selena Gomez Apparently Walked Out Of A Date With Justin Bieber, So That's Awkward
Have you ever been on a date that wasn't going so hot, so the first chance you had, you just left? I have! And apparently, so has Selena Gomez. Gomez went to the Sugar Factory in Seattle this past weekend with her former ex Justin Bieber, and while fans saw them together seemingly having a great time, others saw Gomez leave by herself at one point. Yup, Selena Gomez walked out on Justin Bieber during a date, but the reason she did it makes sense, so don't you judge her!
E! reports Bieber started showing off some of his dance moves in the middle of the candy store and it started to attract a lot of attention. Not wanting that attention from fans (and possibly paparazzi), Gomez got up and left the store. So, basically, Bieber was being annoying as hell and Gomez was having none of it. I have never related to this woman more. It was all good, though, since E! reports Bieber quickly followed her out after she left.
According to people who saw the couple there, the two shared a large drink with two straws (~so romantic~) and had some candy. They also apparently took a jet to get there. Same. That's how I do all my traveling nowadays: On my private jet, wearing an oversized fur coat, and clutching my toy poodle in my arms while sipping tea from a bedazzled mug. Just kidding, I'm literally sitting on my parent's couch wearing sweatpants and a T-shirt with a huge coffee stain on it as I type this. My life is a different kind of glamorous. And by different kind of glamorous, I mean completely devoid of glamour. And I like it! Anyways, enough about me and my clear need to do laundry.
She said,
I don't know so much about their personal relationship because he doesn't share a whole lot, but I love her. I support anything [he does], if he loves her I love her, and I've met her and we have a special bond so I think she's precious. I can't really speak on their relationship, that's between them.
Despite things reportedly going well between the couple, Gomez apparently isn't ready to spend Christmas with Bieber, mostly due to her own family.
According to People, Bieber's family is happy he and Gomez are back together, but it's taking Gomez's family more time to open up to the idea. Honestly, fair. Their relationship was really intense and dramatic in the past. A source told People,
Justin's family always loved Selena, but Selena's family is still not happy about her seeing Justin ... Selena doesn't bring Justin to any family events. Selena is spending Christmas with her family. As of now, Justin is not invited.
Another source told E! that Bieber's aware it will take more time to get back into the good graces of Gomez's family. The source said,
Selena felt it was too soon for Justin to come to Texas with her. Her family is still getting comfortable with the idea of them back together. Justin says he hopes he can spend Christmas with her but knows that it will take a very long time for her family to accept him back in.
Despite allllll of this, some fans think Justin Bieber is going to propose to Selena Gomez.
Bieber was seen walking to his car on Dec. 5 when a paparazzo asked him if he was going to propose to Selena Gomez. Bieber gave a big smile, but didn't give any verbal answer. Some fans took this as Bieber being like, "Hehehe, yeah. How'd you guess?" But I think he's literally just blushing at the idea of marrying her. They have a long history, after all, so ending up married in the end is a cute thing to think of, right?
We'll see what happens, fam.
Check out the entire Gen Why series and other videos on Facebook and the Bustle app across Apple TV, Roku, and Amazon Fire TV.