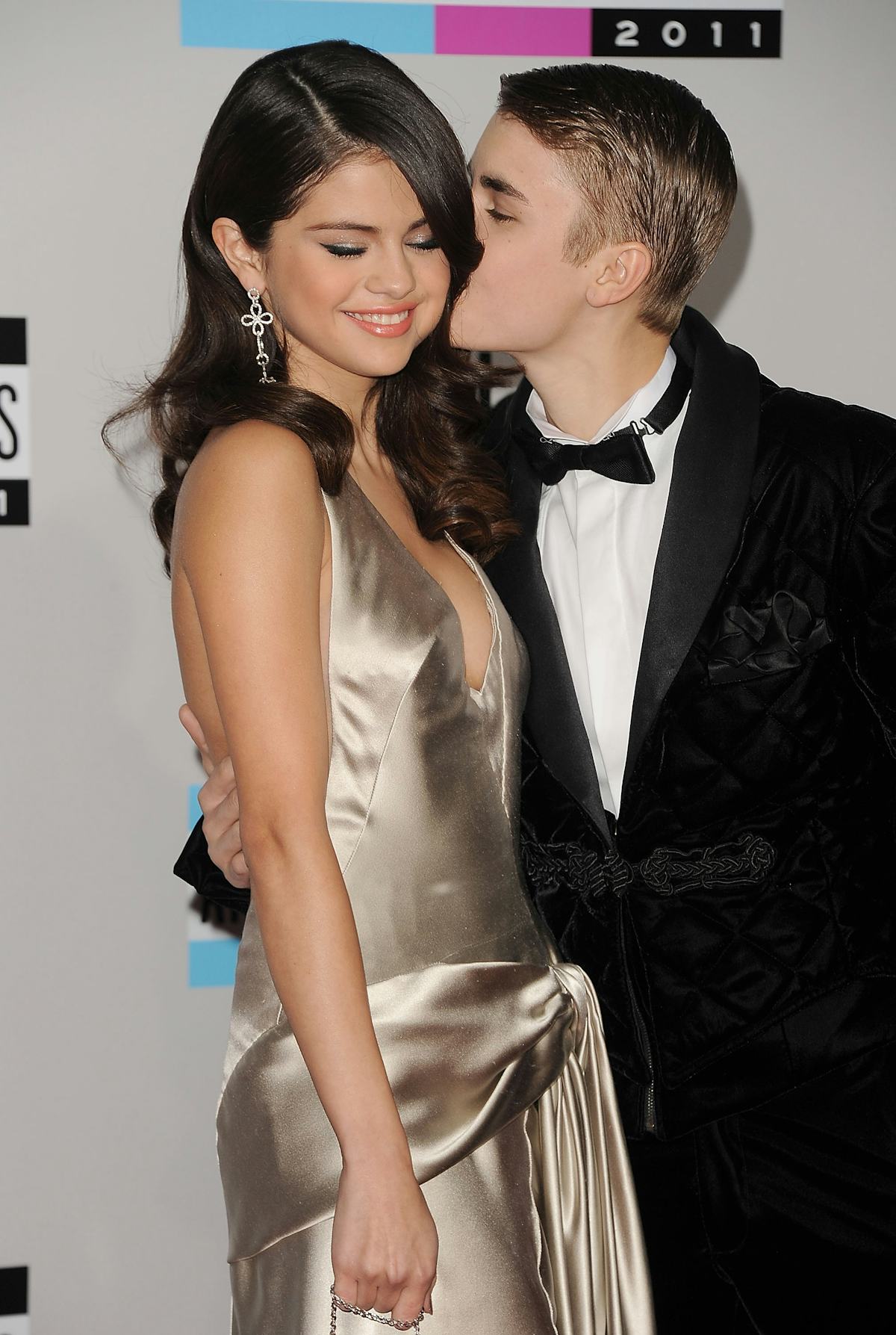 Fans Think Selena Gomez & Justin Bieber Are Getting Engaged & TBH, I'm Here For It
Jason Merritt/TERM/Getty Images Entertainment/Getty Images
Literally if Justin Bieber and Selena Gomez get married and don't invite me to the wedding, I'mma be pissed. I've been following Jelena since Mama popped me out of the womb, so I feel pretty confident I'm their biggest fan. Because I sleep, breathe, and die Jelena, this video of Justin Bieber is making me feel all the feels. The clip is circulating (FOR GOOD REASON) and it's making fans wonder if Selena Gomez and Justin Bieber are engaged. TBH, they better be, because I'm here for it.
Elite Daily reached out to both Gomez's and Bieber's team for comment, but did not hear back by the time of publication.
In the video below, you can hear the paparazzi ask Bieber if he's planning to propose to Selena Gomez: "Justin, are you gonna propose to Selena Gomez? You guys make a really good couple. I see that smile!" Fans are losing it (INCLUDING ME! I'M LOSING IT!!) over Bieber's reaction to the question. When the pap mentions Gomez's name, Bieber's face lights up like a little kid's on Christmas morning. He looks like a puppy dog that just tried bacon for the first time. He looks like me after getting laid. It's so cute and so clear how happy Gomez makes him feel.
SOooOOoOOo LiiiiKeeeee, are you guys engaged, or what? Fans have been asking this question since the ex-lovers rekindled the flame over a month ago. The two have been spotted on date nights, going to church, and making out. YA, I SAID MAKIN' OUT. TONGUE N TONGUE STUFF. HOT!!
I'm making jokes, but I actually can't handle this. This is my dream. Jelena is my life. I'm not the only one who is about to explode. TWITTER IS FLIPPIN' A SH*T!!!
It feels like yesterday Gomez was dating The Weeknd and Justin Bieber was posting shirtless pics on Instagram of his tats. Oh wait, he still does that.
Gomez and The Weeknd reportedly broke up on the phone so lol, that's awkward. In middle school, a boy I dated for seven days left me a voicemail to break up with me because he was too scared to do it in person. The best part is my phone was actually broken because I dropped it in the toilet, so I thought we were still dating for like a month. I GUESS THAT'S WHY HE DIDN'T WANNA HOLD MY HAND? I hate my life.
This one goes out to you, Eric:
BUT THIS ISN'T ABOUT ME AND MY 6TH GRADE CRUSH, IT'S ABOUT JELENA. When Gomez and The Weeknd broke up, Bieber hardcore slid into Gomez's DMS.
Once the two started to ~reconnect~, an insider told Us Weekly,
The ball is in Selena's court right now. She was happy with The Weeknd but Justin always has the biggest piece of her heart. This situation is a heartstring type of thing. She has to figure out what she wants.
THIS IS SO ROMANTIC, I WANT TO DIE. Before the pics of them smooching went viral, sources said Bieber and Gomez were actually "just friends." LMAO, OK. A source told E! News,
Selena and Justin have reconnected because they have gone through similar stuff in the past couple years with being physically and mentally exhausted from touring and just dealing with the anxiety and pressure of growing up in the public eye. They have always had a strong connection, and they are leaning on each other as friends. They are both there for each other to talk and support one another.
THAT'S THE FUNNIEST THING I'VE READ ALL DAY! Now that the two are officially an item again, fans can rejoice knowing Jelena is back and better than ever. Bieber still has a few obstacles in the way, like being accepted by Gomez's family. A source told E! News Gomez feels it's still too soon for her to bring him home:
Selena felt it was too soon for Justin to come to Texas with her. Her family is still getting comfortable with the idea of them back together. Justin says he hopes he can spend Christmas with her but knows that it will take a very long time for her family to accept him back in.
Welp, hope the fam is down with an engagement then! Hopefully Bieber will pop the question soon because I'm envisioning a spring wedding and I'd like some time to work on my tan. See you guys at the altar!