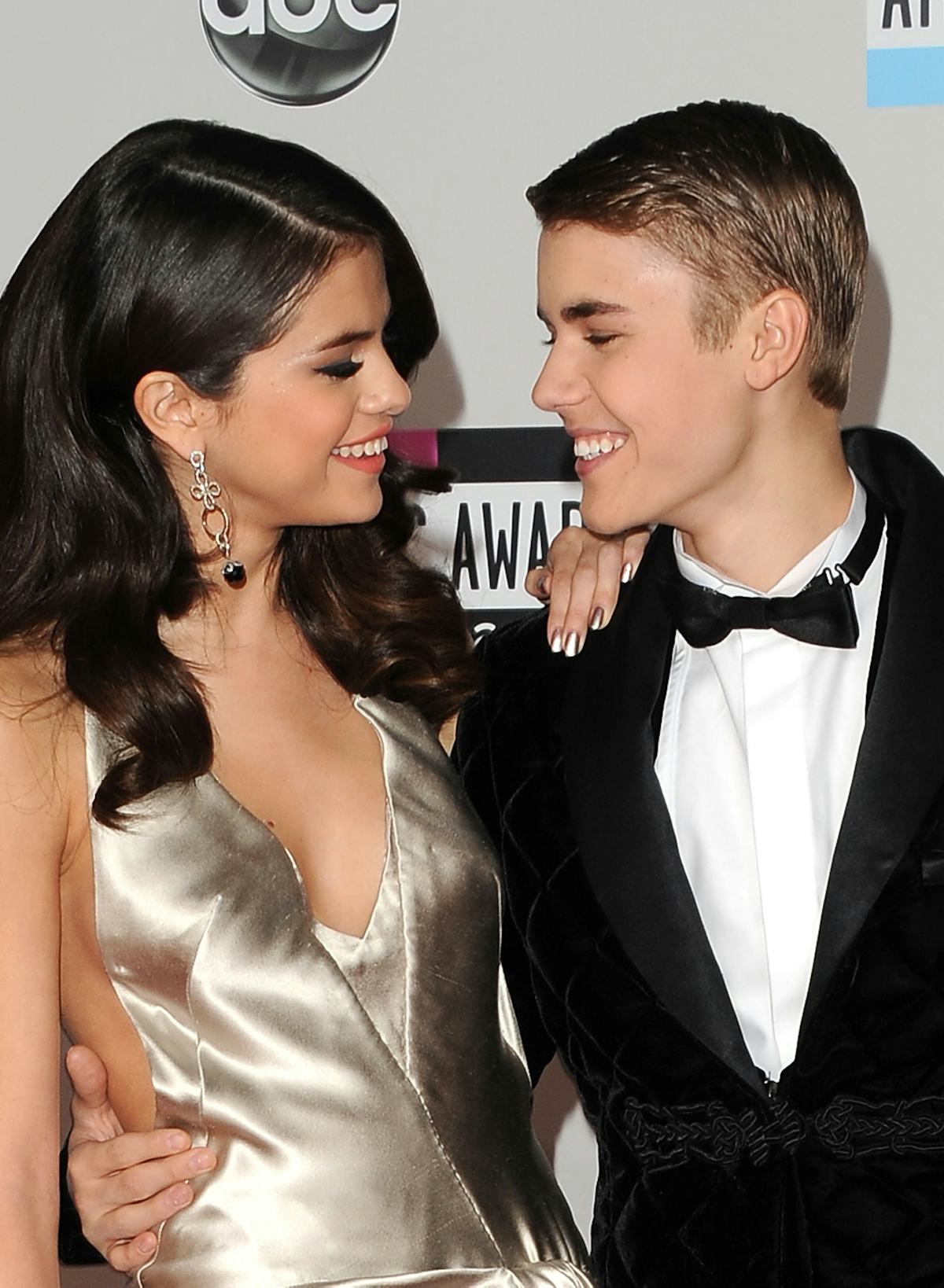 Selena Gomez & Justin Bieber Went On Another Getaway For A Really Sweet Reason
Jason Merritt/Getty Images Entertainment/Getty Images
Can we all be just a little bit envious of Selena Gomez and Justin Bieber's travel itinerary these past few months? The couple spent their holidays jet-setting around the globe, and now are traveling once more for an entirely different (yet really adorable) reason. Selena Gomez and Justin Bieber traveled to Jamaica together to help celebrate the marriage of Bieber's dad, Jeremy Bieber, to Chelsey Rebelo, and I can't even think of a better way to keep the Valentine's Day spirit alive than a romantic beachside wedding.
According to People, sources say that Bieber flew to Texas on Sunday, Feb. 18, to pick up Gomez, then Bieber and Gomez flew to Jamaica together for the nuptials on Monday, Feb. 19. The source also told People that "they celebrated a romantic Valentine's Day," adding that "they had been apart for a couple of days and seemed happy to be reunited."
Honestly, if anyone brought me to a Caribbean island, I'd be happy to reunite with them, too, but I digress. (Also, if anyone has a spare ticket to an island, I am willing and able, so hit me up.)
Jeremy Bieber has been documenting his destination wedding journey, posting photos of himself and his fiancée on social media, along with a picture of his family en route to the airport:
Now, all we have to do is wait and hope to see some adorable photos of Selena and the Biebs frolicking on the beach for life to be fully complete.
Ever since New Year's Eve, Justin and Selena have been taking trips together that are giving us all some serious romantic feels. At first, we weren't sure as to whether or not the couple spent the holiday together, since we saw Selena crushing life on the beach in Cabo with friends, and there was no Justin in sight:
But we all collectively breathed a sigh of relief when it was reported that Justin was in fact there, celebrating with Gomez. A source told E!:
Justin flew in to Cabo on a private jet from Cancun where he spent a few days with his family ... He arrived on Saturday evening and checked into an oceanfront villa 10 minutes away from Selena's villa where she was staying.
As if Cabo wasn't enough for these romantic wanderers, things heated up even more when photos surfaced of Jelena en route to the Las Angeles Airport on Saturday, Feb. 10, and traveled to Laguna Beach, because what better way to show your love for one another than by soaking up some Californian sun together?
According to People, the couple stayed at the Montage and were seen chilling poolside and curling up to one another, and now I'm officially jealous.
Selena is too busy living her best life to notice my obvious jealousy. It's all good, girl, you've earned that vacay.
It seems like the pair decided to take a day to enjoy all by themselves, too, because on Sunday, Feb. 11, Gomez reportedly hit up Disneyland and took tons of photos with her fans:
No word on how Justin spent his day, but if I had to guess, I'd say probably finding a place to play hockey was at the top of his list.
We've been seeing Justin and Selena out and about more and more frequently together lately (like witnessing them kissing in the street after a concert date night and attending a church Bible study with each other), and seeing that Selena is reportedly attending Justin's dad's wedding is a pretty big step in the relationship.
Who knows, maybe Selena will even catch the bride's bouquet! Oh 'cmon, just let me dream, people.