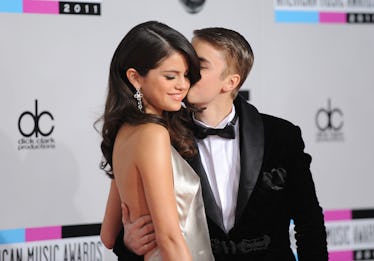 Justin Bieber & Selena Gomez Might Have Spent New Year's Together After All, So Phew
Jason Merritt/TERM/Getty Images Entertainment/Getty Images
2018, hello and welcome! I'm so glad you're here – but honestly, I'm already a little worried about you, and that's because Justin Bieber and Selena Gomez may not have celebrated you together. Rumors were swirling around that Justin and Selena would not be spending New Year's Eve together, and honestly, it felt as if love could not feel any more dead. How could I ring in the new year knowing that Jelena would be apart? The world can be so cruel. But then it looked like there was hope, and that they *may* have actually kissed when the clocked struck midnight, and my life felt complete again. So, did Selena Gomez and Justin Bieber spend New Year's together?
The answer is a bit unclear.
Let's sift through the evidence, shall we?
We'll start out with what we know for sure: On Dec. 28, we got word that Selena Gomez flew to Cabo with her friends for a New Year's Eve vacation, according to E! News, and a source told the outlet:
She seemed very excited when she landed and was giggling with her friends and taking photos ... They are all planning to do some fun dinners and spend New Year's Eve together.
Here's Selena totally crushing life on the beach:
And here she is soaking up the sun, looking beachy and glowing:
OK, all of this looks amazing, but where was Justin Bieber when all of this went down? Was he just running late and missed the flight (because honey, we've all been there), and would maybe just catch the next flight to meet up with his main squeeze?
Joke's on you if you thought that, because we saw photographic evidence that Bieber was actually in Canada on the day of Gomez' flight, doing what he does best – playing hockey:
Why anyone would choose cold temps and sweaty hockey jerseys over fruity alcoholic drinks and bikinis is beyond me.
So at this point, we all thought that a Jelena New Year's Eve celebration was simply out of the cards. But then:
Social media fan accounts posted what looked to be Justin Bieber touching down in Mexico for New Year's Eve, and it was as if the heavens parted and the angels started singing, and 2018 started looking hella bright.
The photos show a (very shirtless) Bieber standing on the stairs of what seems to be a swanky private plane, chatting it up with some of the local air traffic controllers, and it looks like he's DEFINITELY in Mexico.
So, they totally spent the end of 2017 together, drinking champagne and wearing weird glasses in the shape of 2018...right?
You know the ones I'm talking about:
I digress – Back to Justin and Selena.
So we *thought* we had proof of the couple spending New Year's Eve together, but then we saw reports that Justin Bieber spent the holiday with his friends, and I was like "Wait, what?"
Apparently, Justin's Instagram story showed him ~hanging~ with his buds:
First off, loving this pose.
But where are they? Is this Mexico? Is this Canada?
WHERE IN THE WORLD IS JUSTIN BIEBER?
It is absolutely Mexico, because a video was posted to social media of Bieber having a grand ole' time tight-rope walking on the beach:
So, while we don't have photographic evidence that the two were together (AKA Selena and Justin kissing when the ball dropped), I'm just going to go with yes, they had the best New Year's Eve celebration and are totally in love and everything in the world is perfect. OK? OK.
Cheers, 2018. May you bring us more Justin and Selena, because that's exactly what we deserve.