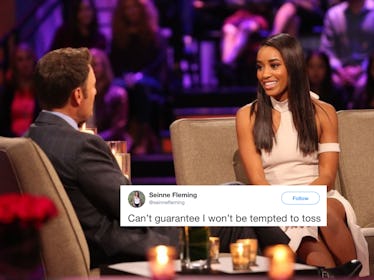 Seinne's Tweets About Arie After 'The Bachelor' Are So Good, It Hurts
ABC/Paul Hebert
It's been a dramatic few days for Bachelor Nation. In a two-night finale event, fans watched Arie propose to Becca K., break up with her, get back together with runner-up Lauren, and then propose to Lauren on stage. Arie's flip-flopping in The Bachelor finale didn't exactly make him popular with fans at home, and as we saw from the After the Final Rose special, the contestants aren't showing much love for their ex boyfriend, either. Many of the women have been critical of their ex, but Seinne's tweets about Arie after The Bachelor take the cake. The outspoken contestant is not holding back when it comes to throwing shade at Arie, and we are so here for it.
Just a few hours before the live After the Final Rose special, Seinne tweeted a hilarious message to her followers that expressed her anger at Arie for what he did to her friend Becca. "Can't guarantee I won't be tempted to toss my shoe at Arie tonight at After the Final Rose. But I will do my best to keep it classy #theBachelor," tweeted the 28-year-old commercial real estate manager. Like her fellow contestants, Seinne wasn't afraid to drag Arie for the way he handled the Becca/Lauren situation, and her tweet suggests that the kind of enjoyed having an opportunity to come at him.
During Part 2 of The Bachelor finale, Seinne joined Kendall, Bekah M., Caroline, and Tia for what pretty much amounted to an Arie complain sesh. Bekah was the harshest of Arie's critics, saying, "I think that he is not a genuine person. I think he is an incredibly manipulative person." She added, "I hope that Lauren gets out of that as soon as possible." Seinne was slightly nicer, though still cold to Arie, telling host Chris Harrison that she hopes Arie and Lauren find happiness, because Lauren is such a great person who deserves to find love.
Seinne may have played the good cop on the Women Tell All special, but that doesn't mean she's giving Arie a free pass for being a total jerk. In an interview with Entertainment Tonight, Seinne said that she's not surprised by how things went down, given that Arie has an "indecisive" streak.
I could tell throughout the process that he had a little bit of indecisiveness, so I wasn't surprised. There were a few other things early on that it seemed like he wasn't sure... He gave Chelsea a rose for their one-on-one and then sent her home literally the next week.
The Yale grad also told Entertainment Tonight that she's not expecting things to last long-term for Arie and Lauren. "I wouldn't be surprised if things didn't work out," she said. "Especially now that he will have a lot more attention on him, I imagine it might be difficult."
While Seinne definitely won't be the next Bachelorette (Becca K. being named the next Bachelorette was pretty much the only good thing to come out of Season 22), fans of the low-key beauty are hoping that her journey isn't over quite yet. During the Feb. 25 Women Tell All special, Seinne told Chris Harrison that she's not giving up on love yet. "I am ready and willing and open to find love. I'm dating, but I'm single. I haven't met the one..." she said. If she's open to finding love, maybe an appearance on Bachelor in Paradise will be just what Seinne needs. Despite fans campaigning for her to visit Paradise, she's not totally sold on spending the summer in Mexico, and she told Extra in their Feb. 27 Bachelor Breakdown that she has to "think about it." Her biggest hold up? "There's no one that I think will go on Paradise who I would be interested in," said Seinne. But she did say that there are a few people who may be able to convince her to visit Paradise: "Of the people that are around, I think Ben and Peter are the top." Ben, Peter, can we make this happen?
Honestly, it doesn't really matter whether Seinne goes to Paradise, because that savage tweet will live in infamy.