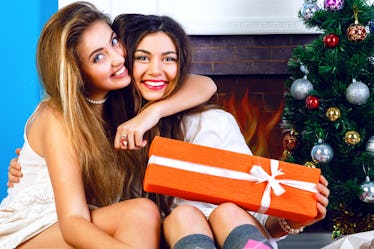 7 Reasons Why It Feels So Good To See Your Cousins Over The Holidays
Reuniting with family is one of the best parts about the holiday season. No matter how long you've been apart, the minute you're together once again, you're laughing and joking like no time has passed at all — that's what's so special about your bond. You can't wait to hug Mom and Dad, head to Grandma's to make her specialty chocolate pecan pie, and of course, catch up with your cousins. In fact, seeing your cousins over the holidays feels so good — just like a mug of hot cocoa with marshmallows on Christmas morning.
When you're close with your cousins, you're besties for life. They have been there since day one, and will continue to be there for you forever. You probably text all the time, and are each other's biggest Instagram supporters — but it's just not the same as being able to catch up in person over the holidays.
After all the squeals and hugs, you and your cousins will be making festive plans over the holiday break, just like the good old days. There really are a million reasons why you can't wait to see them, and these seven reasons will definitely hit you right in the feels.