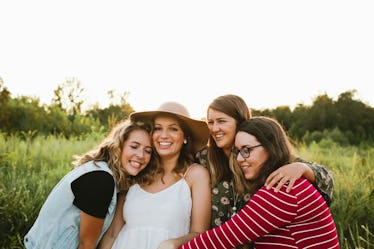 Why Your Cousin Is The One Person Who Gets Along So Well With Your Besties
Best friends are truly what make the world go round, and the greatest feeling is when all of your besties get along so well. So, when you're able to easily integrate your soul sister cousin into your number one squad, you immediately feel whole. Why is it that your cousin gets along with your friends so perfectly, might you ask? Well, it definitely helps that your cousin is your BFF, so she belongs in that exclusive crew of besties you love endlessly.
Your cousin is the family member who turned into your best friend, and your BFFs are the friends who turned into family. No matter the process of how they got these titles, all of them mean so much to you. I mean, it would be quite the chore if your favorite people didn't get along. You'd have to split up your time between your cousin and your girlfriends. But lucky for you, your two worlds collided, and the outcome is beautiful.
The situation works so well because of these seven things that make your cousin such a special gem — and your best friends have noticed. Now, you have more time to plan the perfect girls' trips and wine nights, because you have both your cousin and your besties right there with you. That's squad goals, if you ask me.