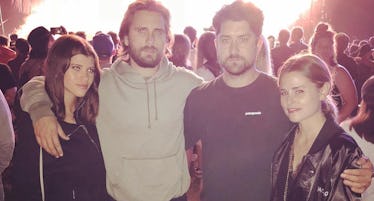 Scott Disick's Old Friend Just Trolled Him About Sofia Richie's Age On Insta & I'm Shook
Instagram/JJCorsini
Say what you want, but Scott Disick is a funny dude. Whether he's delivering one-liners on Keeping Up With The Kardashians or still trying to convince Kris Jenner he's Todd Kraines, he's got a certain sense of humor that I find hilarious. Apparently, he rolls with equally funny friends who have zero shame in poking fun at his relationship with 19-year-old Sofia Richie, who is 16 years his junior. And I promise that you'll laugh when you see that Scott Disick's friend trolled him about Sofia Richie's age on Instagram.
Disick and his friend, J.J. Corsini, have been buds for quite some time. Corsini took to Instagram and shared a photo with a sweet message about how a decade ago, he and Disick both talked about wanting to see Kings of Leon together. I personally love Kings of Leon, so I was already feeling this caption. The photo that Corsini posted showed himself and Disick at the concert, but also featured Disick's girlfriend, Sofia Richie, as well as another woman, who is Corsini's...girlfriend? Wife? Sister? I couldn't tell you, TBH. So it's a cute little portrait of friends finally doing something that their younger selves set out to do. So adorable!
But then, further into the caption, things got real sarcastic, real quick. Corsini wrote:
10 years ago we said it would be fun to see Kings of Leon together. Sofia was 9 years old. It finally happened.
FAM, DID YOU JUST READ THAT LEVEL OF SHADE?
"Sofia was 9 years old."
This is low-key the funniest and most casual burn I've seen in quite some time.
But don't go thinking that Richie won't appreciate this kind of humor, because she'll probably love it. She's mentioned before that she and Scott Disick are incredibly alike when it comes to what they find funny, so I can't imagine she'd get annoyed at a little joking around about her age.
At the launch of Issey Miyake fragrances L'Eau d'Issey Nectar and L'Eau Majeure d'Issey at Milk Studios back on Feb. 22, E! News asked Richie what made her relationship with Scott Disick so special. She said:
I just think he's the male version of me. Our humor. We have very similar humor.
And, despite their significant age gap, it looks like the pair are pretty good together, and help each other become better people overall. A source told People on May 27 that even ex Kourtney Kardashian believes that Sofia Richie is a good influence on Scott Disick. The source told the outlet:
Sofia is helping Scott be a better, healthier person. Kourtney feels confident that Scott and Sofia takes good care of the kids. Scott is a great dad when he has his life together.
And he really seems to be nailing the whole parent thing from the looks of it:
Seriously can't get over how beautiful Mason, Penelope, and Reign all are.
When it comes to his relationship with Richie, Disick thinks that it's "kind of flattering" that so many people care about his personal life. "It's not like I'm mad about it," Disick told People back in March while hosting a party at Jewel nightclub in Las Vegas. "Everybody's worried about something. Everybody is worried about other people's things, so it's fine."
We all just want to make sure you're happy, Lord Disick!
Things seemed a little scary for the fate of the couple recently, when Us Weekly reported on June 2 that Richie dumped Disick after he was reportedly seen at the Ye listening party, putting his arms around another woman. Another source told E! News that Richie was fed up with Disick's "toxic" behavior. They said,
Sofia broke up with Scott after the pictures and rumors of his behavior in Wyoming were floating around. She couldn't take it anymore. Scott has been off the rails recently and is not in a good place. He goes in waves of partying really hard and then will have his good days and it's just very toxic behavior.
Elite Daily previously reached out to Disick and Richie's teams for comment on the rumors, but did not hear back by the time of publication.
But more recently, a source told People that it's all good, and that the two of them are living together "again," saying, "Sofia again lives with him. Everything seems good now. It's back to normal."
Technically, this would mean that, at some point, things weren't "normal," but I digress. Cheers to the happy couple! May they forever appreciate going to concerts featuring bands that are enjoyable for both of their age groups.