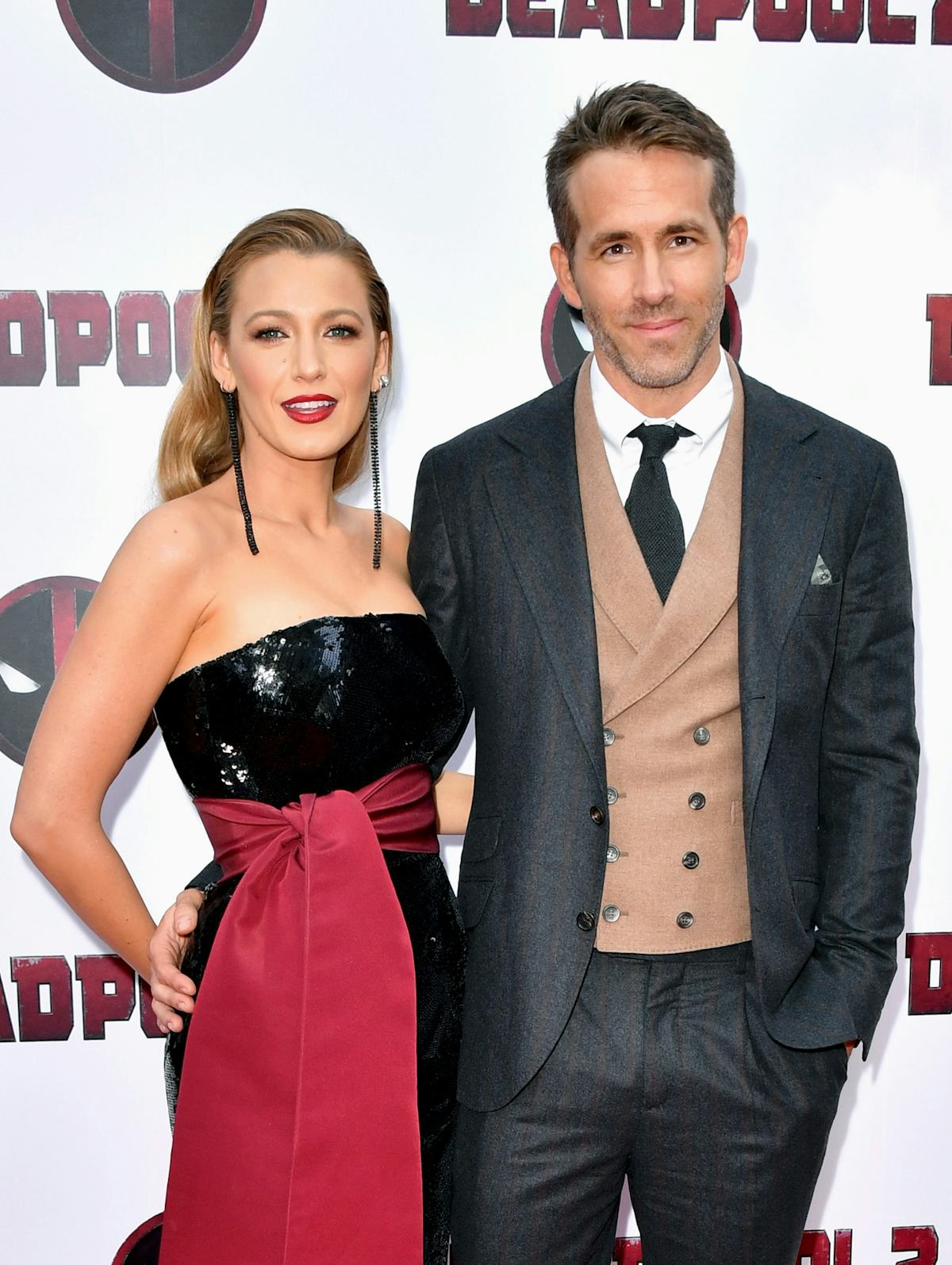 Ryan Reynolds Gushed About Blake Lively On The 'Deadpool 2' Red Carpet & I'm Swooning
Michael Loccisano/Getty Images Entertainment/Getty Images
Is there a couple more perfect than Blake Lively and Ryan Reynolds? We've lost some pretty important celeb relationships recently (ahem, looking at you, John and Nikki, Channing and Jenna, and, TBH, still not over Chris and Anna), but we need to find strength and comfort in the couples that we still have — and Blake and Ryan are a huge source of hope for me. They're open and honest with each other and are funny as hell on social media, so really, they are the complete celebrity package in terms of a husband and wife. And what I appreciate most about them is how obviously in love they are, but not in a gross, PDA way, but rather a sweet, non-showy way. If you don't know what I'm talking about, then maybe hearing Ryan Reynold's reaction to being called "Mr. Lively" will help you understand, because it's serious #husbandgoals.
At the premiere of Deadpool 2 in New York City on Thursday, May 10, Ryan Reynolds was talking to Entertainment Tonight correspondent Carly Steel, who jokingly called him "Mr. Lively." I mean, our girl is hella successful and talented, so hey, it's not like this is *that* far of a stretch.
But in true Ryan Reynolds form, he handles the joke like a pro, and his response will make girls around the world melt into a puddle of happiness. He said,
Oh, I'm Mr. Lively 24/7. And I'm happy about it. [It's the] best gig.
Could there have been a response any more pure than that? No. No, there could not.
I honestly could not love this Hollywood couple any more than I already do, because they just seem so very... normal. Even the way Blake Lively and Ryan Reynolds met is so staggeringly traditional, but with one small plot twist.
Back in 2010, Reynolds and Lively played ~love interests~ in the movie the Green Lantern, which was a time where Lively was still dating her Gossip Girl co-star Penn Badgley, and Reynolds was still married to Scarlett Johansson ('memba that?). But they hit it off and became good friends, and in 2011, when the pair were no longer with significant others, the two decided to go out on a double date together, except not with each other!
"We were buddies then," Reynolds told Entertainment Weekly's SiriusXM show. "I remember it was funny because for about a year after Green Lantern had come and gone and we were both single. We went on a double date. She was on a date with another guy and I was on a date with another girl."
But they quickly realized that both of their other halves of the double date were not what they were looking for, because they were too busy feelin' the romance with each other. Reynolds continued, saying,
That was the most awkward date because we were just like fireworks coming across. It was weird at first but we were buddies for a long time. I think it's the best way to have a relationship is to start as friends.
Let's just give a quick round of applause for the universe managing to pull off this unique way of bringing two people together, because let's just call it what it is: FATE!
BRB, swooning.
And, though the two can endlessly troll each other on social media like it's nobody's business, it's also really sweet when they gush about how happy they are to be married. So how do two famous actors with two young children (daughters James and Inez), maintain their relationship and ensure their marriage stays strong? Lively told People magazine in October 2017, "My husband and I don't work at the same time, so we all go together as a family. If we're away as a family, it's never more than for a day. We stay together."
I can't even get on that level of cuteness right now. But wait, because it gets even cuter. In 2014, Lively told Marie Claire how close she and Reynolds are, saying:
We've never gone a week without seeing each other. There's no major decision that I make without him. The best part is when we turn off our phones and just talk and hang out. He's my best, best friend. What do you do with your best friend? You do nothing.
There you have it, ladies and gents. Mr. and Mrs. Lively, crushing the marriage game, as per usual. Never change, you two.