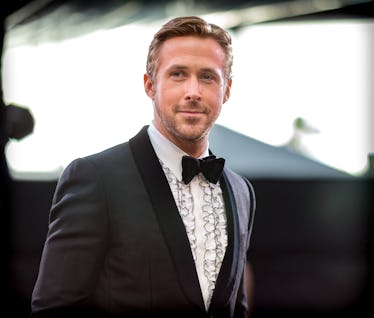 Ryan Gosling Responds To Harvey Weinstein Allegations: "Men Should Stand With Women"
Christopher Polk/Getty Images Entertainment/Getty Images
Hollywood has been flipped upside down since The New York Times released an article on Oct. 5 claiming that producer Harvey Weinstein has a decades-long history of sexually harassing women. With women coming forward with more and more harassment claims each day, people have been calling for change. Many celebrities released statements expressing their support to the alleged victims. However, one response pleaded for the public to look at the systemic problem. In Ryan Gosling's response to Harvey Weinstein's allegations he explained that he is "deeply disappointed" in himself for being oblivious to the alleged abuse. Gosling continued by saying men and women need to work together to produce change.
Gosling's statement on Twitter read,
I want to add my voice of support for the women who have had the courage to speak out against Harvey Weinstein. Like most people in Hollywood, I have worked with him and I'm deeply disappointed in myself for being so oblivious to these devastating experiences of sexual harassment and abuse. He is emblematic of a systemic problem. Men should stand with women and work together until there is real accountability and change.
According to The New York Times, Harvey Weinstein, one of the most influential film producers in the entertainment world, has reportedly been mistreating female employees for decades and has reached settlements with at least eight women throughout the years. Weinstein responded to the Oct. 5 New York Times article and allegations in a statement that said,
I appreciate the way I've behaved with colleagues in the past has caused a lot of pain, and I sincerely apologize for it. Though I'm trying to do better, I know I have a long way to go.
Lisa Bloom, Weinstein's former attorney said in a statement on Thursday, Oct. 5, that Weinstein "denies many of the accusations as patently false" and that he would not "demean or attack" the women who have accused him. Bloom has since resigned.
The accusations claim that Weinstein would invite young actresses and employees to a hotel room at places like the Peninsula Beverly Hills Hotel and would then ask them to give him a massage or watch him while he showered. The release of this story has prompted celebrities who claim they have also been harassed by Weinstein in the past to come forward with their stories. Gwyneth Paltrow, Angelina Jolie, and Cara Delevingne are the most recent.
Weinstein's spokeswoman, Sallie Hofmeister, gave the following statement to Elite Daily in response to the allegations:
Any allegations of non-consensual sex are unequivocally denied by Mr. Weinstein. Mr. Weinstein has further confirmed that there were never any acts of retaliation against any women for refusing his advances. Mr. Weinstein obviously can't speak to anonymous allegations, but with respect to any women who have made allegations on the record, Mr. Weinstein believes that all of these relationships were consensual. Mr. Weinstein has begun counseling, has listened to the community and is pursuing a better path. Mr. Weinstein is hoping that, if he makes enough progress, he will be given a second chance.
Jennifer Lawrence, who worked with Harvey Weinstein on Silver Linings Playbook (the movie that won her an Oscar), responded to the allegations in support of the victims. She said,
I was deeply disturbed to hear the news about Harvey Weinstein's behavior. I worked with Harvey five years ago and I did not experience any form of harassment personally, nor did I know about any of these allegations. This kind of abuse is inexcusable and absolutely upsetting. My heart goes out to all of the women affected by these gross actions. And I want to thank them for their bravery to come forward.Elite Daily reached out to Lawrence's team for further comment, but did not hear back by time of publication.
Another powerful message came from actress Emma Watson via Twitter.
I stand with all the women who have been sexually harassed, and am awestruck by their bravery. This mistreatment of women has to stop.
In this instance it was women affected, but I also stand with all the men, indeed any person, who has suffered sexual harassment.
Many people are rallying with the alleged victims and praising each woman for her bravery in coming forward. Hopefully, this will be the wake-up call that society has needed to stop sexual harassment.
Check out the entire Gen Why series and other videos on Facebook and the Bustle app across Apple TV, Roku, and Amazon Fire TV.