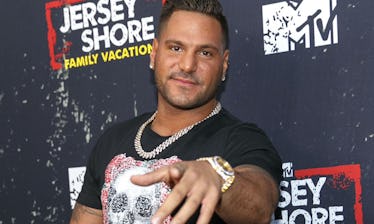 Ronnie From 'Jersey Shore' & His Girlfriend Apparently Broke Up Again & I'm Not Shocked
Rich Polk/Getty Images
Sigh. Another day, another breakup, y'all. It seems like we've got to say goodbye to another on-again, off-again couple — although who knows for sure if this separation will even stick. According to a report, Ronnie Magro and Jen Harley broke up again, and I can't even say I'm *that* surprised. Elite Daily reached out to Magro's team regarding the reports, but did not hear back by the time of publication.
An inside source close to the couple told Us Weekly that the two have split up after the couple got into an argument. "They had a big fight the other day and are done … for now. It's going to keep changing every day." Just want to point out that the source literally said that the pair is done "for now," which means getting back together might be in the cards. In all honesty, it would make sense for Magro and Harley to try and work things out now that they have a little fist-pumpin' newborn on their hands, but who's to know what's really best at this point?
The Jersey Shore alum and his girlfriend welcomed their baby daughter on April 3 and named her Ariana Sky. A source reportedly told Page Six that Magro was en route to London when Harley went into labor and flew right back home as soon as his flight landed in the UK. The source said,
Halfway through the flight this weekend, he found out his pregnant girlfriend Jen Harley's water broke. The second he landed in London he turned right back around to his home in Vegas to be with her. The cast was so excited... they were hugging him at the gate.
While we don't have video footage of that moment, I'm expecting it would look something like this:
Ain't no party like a Jersey Shore party, amirite?
Back before Magro and Harley got pregnant and consciously uncoupled a dozen times, he revealed to Us Weekly that the name Ariana has been brought up in their relationship from the very start, and, while it was only a joke at first, the name actually ended up turning into something much more. He said:
When we first started dating in the beginning, we'd joke around saying, 'What if we had a kid? It'd be crazy and good looking!' And we'd say 'What would we name it?' We joked that we liked Ariana. When she found out she was pregnant, we looked at each other and we're like, 'Guess we're naming the baby Ariana if it's a girl.' Next thing you know, we find out the gender and we're like, 'Guess so!'
But sadly, it seemed like the couple just wasn't made to live happily ever after, and when the world saw their highly-publicized Instagram battle, things started to really look bad for the pair. A source told E! News exclusively on April 30 that they were officially calling the whole thing off, saying, "They are broken up. They're done." Elite Daily reached out to Magro's team regarding the report but did not hear back by the time of publication.
Things took a different turn over Mother's Day weekend, though, when their daughter was hospitalized, and seemingly brought the parents back together. Magro shared the news of his daughter's illness over Instagram stories, sharing a photo of him holding Ariana in a hospital room with the caption, "At our 2nd hospital in 24 hours #MyPeanutsNotFeelingWell, #CaliFamilyBeachTripFail." According to E! News, their daughter's illness "may have brought them closer together... They're trying to work things out for her sake. They're giving it a shot." Elite Daily reached out to Magro's team for confirmation on the report but did not hear back by the time of publication.
But, non. Their reconciliation was apparently short-lived, and they're back to being in Splitsville once more.
Whatever these two end up deciding, I hope that they make baby Ariana their top priority and do whatever's best for her. The little guidette deserves that much, at the very least.