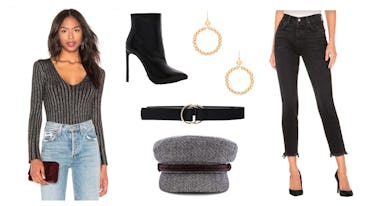 Revolve's Black Friday Sale Gets You Designer Clothes At A Sweet & Sparkly Discount
'Tis the season for shopping for your best friends, cousins — and, if we're being honest, you! You walk into the stores or start scrolling online with every intention of checking things off those wish lists. But then, you see a super cozy sweater and it's game over. Suddenly, you're pulling out your credit card, checking for coupons, and not looking back. These deals will never come around again! Right? Well, before you hit the purchase button, know that there are some bigger sales coming your way. Here's what you need to know: Revolve's 2018 Black Friday sale is going to get you sparkly designer clothes at an incredible discount. So, make some room in your closet for those items that aren't necessarily considered "staples." And then shop until you drop.
This isn't the time to stock up on white T-shirts or basics that can be layered with a blanket scarf. No, this is the time to grab those sequin jumpsuits and velvet dresses that can't be worn year-round. It's the time to invest in pieces like a chic leather jacket from ALLSAINTS, or a printed mini dress from Majorelle that looks straight off the runway. You may even dare to buy an item from a brand that you would usually steer clear from. You know, the brands you love but have to leave behind, for the sake of your bank account?
Within minutes, you could have a piece that's perfect for New Year's Eve or another celebration with your gal pals. You could score that trendy hat or sleek black belt, too — if you're not necessarily looking for a full outfit, but rather a few accessories. Wear those pieces out on the weekends, and create your own runway every time you take a step in those sweet boots. Getting the picture? OK, then let's talk deals.
What's Revolve's 2018 Black Friday sale?
Let's just get straight down to the situation, because these designer deals might as well be considered a steal. Revolve's 2018 Black Friday sale includes items up to 65 percent off. YEP, you heard that right. Like these adorable llama slip-on sneakers from Soludos for $50 (normally $99) or this gorgeous pink gown from Likely for $208 (normally $378).
How can you get the deal?
It's so easy. All you need to do is hit the Revolve website! The Black Friday Sale is the first thing you'll see, so get to clicking and adding to your cart!
If you're on social media, then you may have already seen this brand being sported by your favorite fashion bloggers and influencers. They're traveling the world to big cities like New York and Paris, or destinations like Mexico and Amangiri, with Revolve using the hashtag #revolvearoundtheworld. Don't even get me started about the parties this brand holds at Coachella, too. (Can we get an invite next time?)
Aimee Song (@songofstyle on Instagram) is one of my personal favorites sporting the latest Revolve looks, like trendy longer-length jackets and fashion-forward items from Lovers + Friends. Photos and albums, like hers, on your feed are what you're going to want to look at to get inspiration for your purchases and know exactly how to style them.
You may realize that you need to snag an extra accessory to complete a look, or find that those earrings are better when they complement that bodysuit. Either way, designer items are on their way to you, and at a discount! Thank you again, Black Friday.