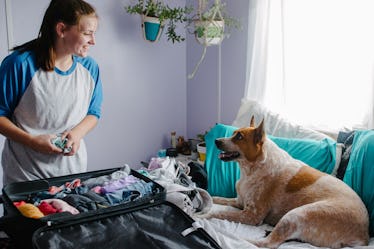 Relatable AF Memes About Long Weekends That'll Make Every Over-Packer Say "Same"
Long weekends are the perfect time to escape your everyday surroundings and fill your wanderlust. Traveling is really dreamy, but in order to go anywhere, you need to pack. Fitting everything you need into one suitcase is a challenge, and sometimes almost impossible. I firmly believe in having an outfit for every plan, because you truly never know what you may feel like wearing when you arrive. If you're an over-packer like I am, you'll totally relate to these memes about long weekends, because they totally get you.
I understand when planning for your weekend getaway, you have to be prepared for every possible situation. That means, the struggle is real when you're trying to zip up your suitcase filled with all those possibilities. When the zipper for extra space doesn't give you enough extra space, we've all had to try the technique of sitting on top of the bag, trying to get it to close. So many staples are necessary, regardless of how many days you are away. Luckily, you have these nine memes to get your through it all. You'll be able to laugh it off, knowing you're not alone. Just remember to pack everything before trying to zip up your luggage. You won't want to have to do it again.