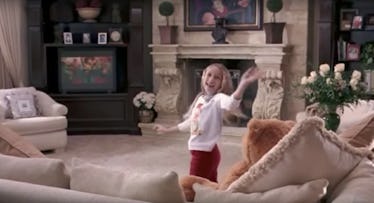 Regina George's Little Sister Posted The Best TBT On Instagram For 'Mean Girls' Day
YouTube
One of the defining moments of any person's life in the early 2000s was seeing Mean Girls for the first time. Aside from Bring It On and Legally Blonde, I have seen Mean Girls more times than any other movie. No shame in my game — this movie is everything to me. It's important for all of us to recognize Oct. 3 for what it is — (unofficial) National Mean Girls Day. To celebrate, Regina George's sister in Mean Girls posted the sweetest behind-the-scenes photo.
In case you're wondering, Mean Girls was not released on Oct. 3. Actually, it's recognized because of Cady Heron's (aka Lindsay Lohan) famous line recounting the past conversations she shared with Aaron Samuels (aka Jonathon Bennett). In the scene, Cady Heron reflecting back on her progress with high school hottie, Aaron Samuels, is so, so hilarious. Cady says while narrating the situation, "On Oct. 3 he asked me what day it was." Her response to Aaron is, "It's Oct. 3." Honestly, so clutch. I think we've all seen Mean Girls at least one time by now so you know how funny these two simple lines actually are.
I could go on about the cultural significance of Mean Girls or Tina Fey proving she's the kween of big-screen script writing, but my attention was actually drawn to an adorable throwback photo from Regina George's little sister. The person behind Kylie George is Nicole Crimi. She shared a photo from 2004 of herself and her TV mom, Amy Poehler.
According to Crimi's IMDB page, she has not acted since 2006, but obviously still looks back on it fondly. She gushed to Buzzfeed about what it was like to be on set with Amy Poehler. Crimi said,
I mostly remember playing games with anyone that had time and laughing because they put dog treats in Amy Poehler's shirt to get that dog to bite it in that one scene. Amy Poehler is just a really funny person and I loved hanging out with her.
Crimi definitely left her mark on pop culture with her comically inappropriate dancing to Kelis' "Milkshake." Since leaving acting, it doesn't seem that her life has slowed down. According to her Instagram, Crimi is currently a student McMaster University and spends her time travelling, making art, and doing all-around cool looking stuff. Thanks for helping to contribute to Mean Girls, Nicole, I really appreciate it.
This year's Oct. 3 is playing out differently than in the past. Most of the cast of Mean Girls reunited to help Las Vegas shooting victims with a GoFundMe campaign. The stars of the film (besides Lohan and Rachel McAdams) reunited to use the exposure to help others, taking to GoFundMe with a video that explains their goal to raise $300,000.
According to the Mean Girls GoFundMe page:
The cast of Mean Girls is teaming up this October 3rd to do some good.
We're asking for just $3 to hit a $300,000 goal.
We are working directly with the National Compassion Fund, a program in the National Center for Victims of Crime. This organization collected and distributed funds to victims of the Pulse Nightclub shooting, the Aurora shooting, and even 9/11.
100% of funds raised will be distributed to the victims of Las Vegas through the NCF at the completion of this campaign.
Do something grool today. Let's hit this goal together. We might not make fetch happen, but we can make this happen.
It's great to see the cast from one of my favorite movies ban together to help people in need after such a tragic event. Be inspired by Aaron Samuels and use this day to do some good. I'm such a good friend.