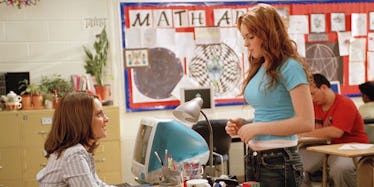 Lindsay Lohan Says She'll Write 'Mean Girls 2' If Tina Fey Is Too Busy
REX/Shutterstock
Tina Fey served as the first female head writer of "Saturday Night Live" prior to writing quotable cult favorite "Mean Girls"… but that doesn't mean it's, like, hard.
In fact, Lindsay Lohan has offered to begin writing the sequel to the 2004 film adaptation of "Queen Bees and Wannabes" in the event Tina has too much going on at the moment.
During an appearance on "The View" on Monday, the actress told viewers,
I went to 'SNL' the other day and I was like harassing Lorne Michaels. I'm like, 'We have to… I'll write the treatment if Tina Fey's too busy.'
She's been lobbying for this film for months, people. Back in December, Lindsay told CNN,
I know Tina Fey and Lorne Michaels and all of Paramount [Pictures] are very busy. But I will keep forcing it and pushing it on them until we do it… I would love to have Jamie Lee Curtis and Jimmy Fallon in the movie.
Despite no signs of success in her efforts to bring Cady and the gang back to the big screen, Linds is pretty confident there is a real future for "Mean Girls 2."
She added,
They're smart with timing. It will come when the time is right… It's a great movie. It's a cult film.
As she waits for producers to find the "right" time, Lindsay has plenty to focus on. She began practicing meditation as a way to strengthen her sense of spirituality and likely help her focus while writing those sassy sequel zingers.
She told the hosts,
I love spirituality and that really drives me. Meditation — transcendental meditation — that really clears my mind… Just being able to switch off. And I made a mind map when I turned 30. It was what I wanted in the next ten years spirituality, what feeds me, what keeps me humble here, who do I want to help, how can I stay continuously doing those things? I want to make my own movies. I don't want to have to answer to anyone… Just focus, stay focus and really surround yourself with a good people.
In that case, perhaps one of us should step up and tell Lindsay "Mean Girls 2" already exists.
In 2011, ABC Family premiered the standalone sequel and, yeah, Tim Meadows reprised his role as Principal Duvall.
On the bright side, Lindsay has also offered up her services to play Ariel in the eventual live-action remake of Disney's "The Little Mermaid."
Lindsay is making it too easy for you fools. Someone just hire her, already. Damn.
Citations: Lindsay Lohan Isn't Giving Up on Being Part of Mean Girls 2 (E!)