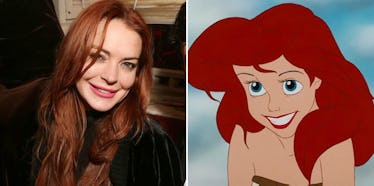 Lindsay Lohan Declares She Will Play Ariel In A 'Little Mermaid' Remake
REX/Shutterstock/Disney
Depending on whom you ask, Lindsay Lohan may or may not be playing Ariel in a live-action remake of "The Little Mermaid."
Actually, pretty much only if you ask Lindsay Lohan is Lindsay Lohan playing Ariel.
Disney, on the other hand, has given no indication that Lohan is even close to landing the lead role in the inevitable "Little Mermaid" remake.
The 30-year-old actress lobbied for the role on her Instagram on Sunday.
Lohan posted side-by-side photo of herself and Ariel, and in the caption, she wrote her pitch to Disney for the film, asking the company to "approve" the project ASAP.
She has since edited the caption to simply read, "#thelittlemermaid," but E! News reported the original caption read,
I will sing again, as #ariel #thelittlemermaid @disney approve that #billcondon directs it along with my sister @alianamusic singing the theme song for the soundtrack. Also @kgrahamsfb plays Ursula. Simply because, she is the best. Take one. @disneystudios.
Here's a glimpse at that deleted caption, courtesy of Entertainment Weekly:
Disney has not responded to Lohan, nor have they commented on the post.
The live-action version of the "The Little Mermaid" has not been officially announced, but last summer, "Hamilton" creator Lin-Manuel Miranda told Vulture he was in early talks to be involved in the film in some way.
Miranda said,
We're in super-early talks — I literally don't have a title for what my job on The Little Mermaid is yet.
So, hey, it sounds like there's still time for Lohan to worm her way in there. Disney did give her "Herbie: Fully Loaded," after all.
The director Lohan tagged in her pitch, Bill Condon, is about to release his first Disney live-action remake, the already popular "Beauty and the Beast," starring Emma Watson as Belle.
Just last week, it was announced "Atlanta" actor Donald Glover will play Simba in the upcoming remake of "The Lion King," directed by Jon Favreau.
The film will not be live-action but, instead, a hyper-realistic digital animation, similar to Favreau's recent Disney remake, "The Jungle Book."
So perhaps this inspired Lohan to throw her name into the Disney remake hat.
It makes sense to want to emulate the recent successes of Emma Watson and Donald Glover. But, um, how do we politely explain to Lindsay that, oh, honey, no, that just isn't going to happen?
Citations: Lindsay Lohan Really Wants to Play Ariel in Disney's The Little Mermaid Reboot (E!)