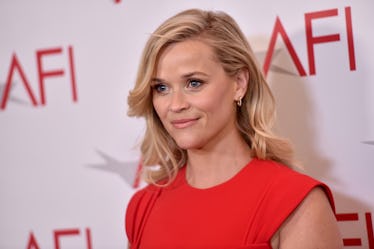 Reese Witherspoon Is Getting Her Own Interview Show Because There's Nothing She Can't Do
Alberto E. Rodriguez/Getty Images Entertainment/Getty Images
Reese Witherspoon is a queen of the TV universe, balancing production deals, another Legally Blonde sequel, book clubs, and feminist mantras like nobody's business. She's probably still busy at the moment filming Season 2 of Big Little Lies, but Witherspoon has managed to squeeze in yet another job into her everyday life. Girl, I can barely manage making my own coffee in the morning without spilling something. Reese Witherspoon is getting her own interview show because, well, duh. There's clearly nothing that this woman can't do.
AT&T and Witherspoon's production company Hello Sunshine announced that her DirecTV on-demand channel will soon feature an unscripted interview series starring Witherspoon. On the series, called Shine On With Reese, she plans to have conversations with "extraordinary women who have created their own unique paths to success." So far, Dolly Parton, Witherspoon's A Wrinkle in Time director Ava DuVernay, Pink, America Ferrera, and Kacey Musgraves are confirmed to appear on the show. Count me in as a fan!
In case you hadn't realized Witherspoon even had her own TV channel, you're not alone, but discovering this honestly makes the world seem a little bit brighter. In a statement about her new deal, Witherspoon said:
I am thrilled to have such like-minded creative collaborators at AT&T to help Hello Sunshine pursue our mission of elevating and showcasing the voices of women that we have such admiration and respect for.
The half-hour series will debut on July 17, kicking off a nine-episode season with the release of the first three episodes with Parton, DuVernay, and Pink. According to Variety, well-known celebrities aren't the only ones Witherspoon will speak with. Also on the roster for the first season are poet Cleo Wade, journalist Elaine Welteroth, Sprinkles founder Candace Nelson, and Sara Blakely, the founder of Spanx. Author-activist Glennon Doyle and athlete Abby Wambach will also sit down with Witherspoon, and Simone Askew, the first black woman who reached the rank of West Point's First Captain, will also have a discussion with her.
The lineup is seriously impressive, but each of the women actually has a personal connection to Witherspoon. While her ties to DuVernay and even country singer Dolly Parton are obvious, Witherspoon's connection to the other women are seemingly more obscure. Charlotte Koh, the head of digital media and programming at Hello Sunshine, explained about the show's guests:
The idea was to showcase women who have made notable achievements, but through the lens of Reese's relationship with them. There's truly an intimacy, where you feel like you're crashing a coffee date with Ava [DuVernay] and Reese.
Um, move aside, Ava and Reese, I have my latte and I'm ready to crash the convo.
If inspirational conversations with amazing women aren't up your alley (and how is it not?), the Hello Sunshine channel will debut another series on Sept. 4. The show Master the Mess features Nashville-based decluttering experts who make over rooms in clients' homes. If HGTV is your thing, Master the Mess sounds like a perfect supplement to help you detox from Fixer Upper binges.
The interview series isn't the first time Witherspoon will debut a TV project under the Hello Sunshine name. Earlier this year, she announced that the company is adapting Celeste Ng's bestselling novel Little Fires Everywhere alongside Kerry Washington's own production company for a Hulu limited series. For Apple TV, Hello Sunshine is also adapting the thriller Are You Sleeping? and creating a comedy series based on Curtis Sittenfeld's short story collection You Think It, I'll Say It. Best of all, Witherspoon is also producing and starring in an Apple show about morning TV alongside Jennifer Aniston, who she worked with on Friends.
The rest of the world may be a bit of a mess right now, but Witherspoon's ever-growing resume definitely makes me feel optimistic about women having their moment to literally "shine" on TV. Shine On With Reese launches on July 17. Viewers can find the series by searching "Hello Sunshine" on DirecTV Now or watching either the DirecTV channel 1112 or the AT&T's U-verse channel 1530.