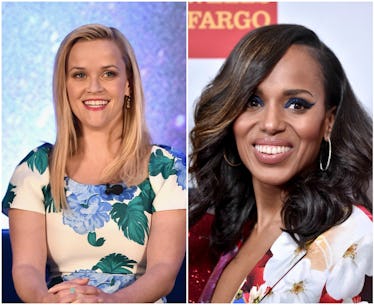 Here's Where You Can Watch Reese Witherspoon & Kerry Washington's New Show
Alberto E. Rodriguez/Getty Images Entertainment/Getty Images & Frazer Harrison/Getty Images Entertainment/Getty Images
I think it's safe to say that if I had to pick a celebrity to make a TV deal with, Reese Witherspoon would be the one to get. Although her production of HBO's Big Little Lies is among her highest achievements, the actress has guided several other female-heavy stories to the silver screen, giving women a greater voice in the TV and film landscape. Nearly two weeks after Witherspoon announced her and Kerry Washington's upcoming TV adaptation of Celeste Ng's bestselling book, literary enthusiasts and movie fans were still asking the big question: where can you watch Little Fires Everywhere? Hulu will stream the eight-episode series at an undetermined date in the future.
Coming off the high of its acclaimed series The Handmaid's Tale, the streaming outlet beat other streaming and cable companies in buying the series, assigning the drama a straight-to-series order. As previously reported, Witherspoon's production company Hello Sunshine will oversee the limited series adaptation alongside Washington's company Simpson Street and ABC Studios' cable/streaming division ABC Signature. In addition to producing, Witherspoon and Washington will star in the project, which will also include Ng as a producer.
Debuting in 2017, Little Fires Everywhere introduces a mother and a daughter who rent an Ohio home from a family with four children. The kids increasingly become intrigued about the new tenants, but Mia, the mother, has a mysterious past that could soon catch up to her. The novel appeared on several "Best Book of the Year" lists, including that of Amazon, Barnes & Noble, Entertainment Weekly, and The Washington Post.
Witherspoon announced the adaptation in a Facebook video with Ng.
Once Hulu's deal was public, its chief content officer Joel Stillerman released a statement:
Celeste wove a beautiful, riveting story that spoke to all of us, and when we heard the vision Reese, Kerry and [showrunner and writer] Liz [Tigelaar] have for the series, we knew immediately that we had to bring it to Hulu. We're honored to bring this powerful story to the screen with Hello Sunshine, in their first studio project. This is exactly the type of compelling and culturally relevant content that embodies our Hulu Originals brand.
While the Hulu Originals brand covers far more shows than you probably realize, the branch truly didn't receive recognition until literary adaptation The Handmaid's Tale launched last year. Scooping up several Emmys and other high-profile awards, the series was a groundbreaking project for Hulu, and Little Fires Everywhere definitely has a similar recipe for success.
Witherspoon and Washington also both shared statements expressing excitement about working with Hulu. In hers, Witherspoon referenced Hulu's past work in adapting literature for TV:
At Hello Sunshine, we strive to shine a light on female-driven stories that are rooted in inspiration, emotion and truth — all of which form the bedrock of Celeste Ng's ingenious work. Hulu has a rich history of transforming groundbreaking literature into groundbreaking television, and we are confident that their talented team will use this story to spur a long-overdue dialogue around race, class, and what it means to be a mother. With Kerry Washington, Liz Tigelaar and now Hulu, Hello Sunshine has brought together a dream lineup of creative collaborators, and we are privileged and humbled to have the opportunity to work with them to bring this important project to life.
For Washington, the adaptation is her first major role following the upcoming ending of Scandal. While Simpson Street has produced smaller projects before, Little Fires Everywhere could also lead to powerful change for the company:
As producers, we at Simpson Street are so proud to be part of this team to tell this extraordinary story inspired by Celeste Ng's phenomenal novel and we are thrilled to be embarking on this journey with Hulu. As an actress, I am floored to have the opportunity to work alongside Reese Witherspoon exploring the rich themes of this story playing these dynamic characters.
If I needed any more motivation to grab a copy of Little Fires Everywhere ASAP, the series landing at Hulu is definitely persuasive. Wouldn't you trust the outlet that resurrected The Mindy Project?
Clearly, I'm not the only one who feels this way.
There are no hints about when filming of Little Fires Everywhere will start, but seeing as Witherspoon recently spoke about Season 2 of Big Little Lies starting production soon, it could be awhile. Here's hoping for more epic casting announcements to hold us over!